© 2014-2019 Offshore Radio Museum

OTHER COMPETITIONS
Following the success of Cash Casino other similar sponsored competitions were devised by Terry Bate and Allan Slaight for broadcast on Radio Caroline.
Lucky Birthday Bonanza
(sponsored by Golden Wonder Peanuts, Nescafe and Halex Toothbrushes)
This competition was hosted at various times by Tommy Vance and Ric Dane and broadcast six times a day Monday-Friday.
In each segment a letter was selected and the date of the entrant's birthday (which they submitted with a product proof of purchase) was checked against a list marked from 1-31. Against each date was a prize. The number against each prize was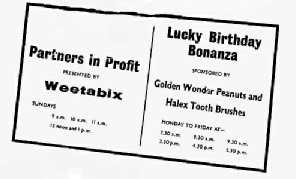 changed daily.
Partners in Profit
(sponsored by Weetabix and Colgate-Palmolive (Ajax cleaning powder)
This competition was hosted by Colin Berry from March 1967 and broadcast on Sundays in the hourly slots occupied by Cash Casino on weekdays.
Listeners were asked to circle a letter from the word 'Weetabix' (later also 'Ajax') on a packet flap. Entries were drawn at random in pairs for each segment. If the pair drawn contained flaps with the same letter circled then the senders each won one of the twin jackpots.
Every time letters were drawn which contained non-identical circled letters £10 was added to each of the twin jackpots, (which, like Cash Casino, started with £100 in the kitty).
As well as benefiting advertisers all these competitions gave Radio Caroline, (and in particular Caroline South), a far more commercially successful sound, generating much needed income and heightening audience awareness of the station.

Do you have any other memorabilia about Caroline Cash Casino which we could add to this Special Exhibition?
If you do, and you are willing to allow the Museum to use it, please contact
resources@offshoreradiomuseum.co.uk
We look forward to hearing from you

Click on the loudspeaker to listen to the 1.00pm Partners in Profit programme from 30th April 1967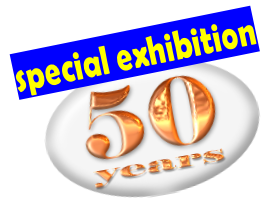 EXHIBITION INDEX
Other Competitions