BILL HE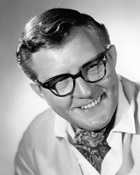 ARNE
The 'voice' of Cash Casino, Bill Hearne was heard presenting the contest every hour, five or six times a day on both Caroline South and Caroline North (one of the few programmes presented simultaneously on both Caroline stations) and he became inherently associated with the Cash Casino competition.
Bill Hearne was born in Clapham, London in August 1927 but emigrated to Toronto, Canada with his parents when he was three.
Following graduation at the age of 17 he returned to London to study commercial art at St. Martin's School of Art, then returned to Canada where he became a successful illustrator and artist.
In 1950 he graduated from Ryerson Institute of Technology, Radio Broadcasting School and for the next 14 years he worked in various broadcasting roles - director, news reader, interviewer, commentator and script and commercial writer.
In 1964 Bill returned to Europe where he worked for Radio Luxembourg and joined Radio Caroline North in April 1965, he later moved to Caroline South, where he was Programme Director until January 1966.
Bill's distinctive voice can be heard in many early Caroline jingles and promos and well as commercials. He also performed many character 'drop-in' voices to add variety to various promos and commercials. After a brief spell in production at Caroline House in London he moved to rival offshore station, Radio London in June 1966 where he presented late night programmes for three months before returning to Radio Caroline.
It was during this period that he became well known as the presenter of Caroline Cash Casino from October 1966. With the introduction of the Marine etc Broadcasting Offences Act looming in August 1967 Bill left Radio Caroline and returned to Radio Luxembourg for a while.
His career and whereabouts after that remain uncertain. His biography on the Pirate Radio Hall of Fame quotes from a contributor, Simon Broad "A friend of mine was a graphic designer for the Open University in the mid-70s, and remembers Bill Hearne working as a technical model-maker, occasionally appearing on screen in a white coat, wheeling the said models on!"
This information remains unconfirmed and, despite extensive efforts to discover what happened to Bill after he left Radio Luxembourg we have been unable to find any further information.
If anyone knows more about Bill and his later career please let us know at resources@offshoreradiomuseum.co.uk
Do you have any other memorabilia about Caroline Cash Casino which we could add to this Special Exhibition?
If you do, and you are willing to allow the Museum to use it, please contact
resources@offshoreradiomuseum.co.uk
We look forward to hearing from you