Radio Sutch - History
In May 1964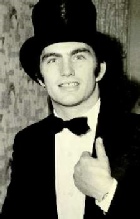 David Sutch, an outrageously extrovert pop singer, better known as Screaming 'Lord' Sutch, decided to establish his own offshore radio station. He had been inspired by the success of Radio Caroline and Radio Atlanta, but his station was largely to be a publicity and promotional exercise for himself and other, then unknown, artists.
With his manager, Reg Calvert, Sutch hired a small fishing vessel, the Cornucopia on which they placed a low power transmitter, some very basic studio equipment and then strung a wire between the ship's two masts to form an aerial.
The Cornucopia left the Pool of London following a pre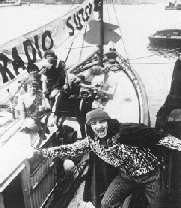 ss conference and photo session on 24th May 1964 supposedly to anchor outside territorial waters and begin broadcasting. Calvert assured sceptical pressmen that this was not a publicity hoax for Sutch and his group, "The Savages".
Two versions of how Radio Sutch actually started have been reported over the years. The generally accepted version is that within a day or two of the ship's much publicised sailing from the Pool of London the radio equipment was transferred to the abandoned World War Two fort at Shivering Sands in the Thames Estuary with test transmissions for the new station starting on 27th May 1964.
However, another version of the sequence of events (contained in an interview given by David Sutch himself many years later) states that Radio Sutch did in fact broadcast from the Cornucopia for about two weeks at the beginning of May 1964 during the afternoon hours when the boat was not being used for its primary purpose - fishing. According to this interview the transfer of equipment to Shivering Sands was not made until after the fishin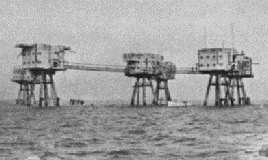 g boat's owner encountered problems with his insurers for allowing the vessel to be used as a radio station. After failing to find any other boat owners willing to hire their vessels to the station, Sutch and his team made some preliminary enquiries about the disused wartime forts in the Thames Estuary. Discovering that they had been abandoned for some years by the Government, Sutch simply decided to occupy them, claiming squatter's rights.
The War Office issued a statement on 27th May 1964 saying that Sutch and his crew were trespassing on Government property and indicated that officials, with police support, would go out to the Shivering Sands and instruct them to leave. A 'boarding party', consisting of an Army Department land agent and a Kent police officer, was subsequently sent out to Shivering Sands on 28th May 1964, but was recalled to Gravesend before reaching the Fort.
The first confirmed test transmissions were heard from Radio Sutch on 27th May 1964. The broadcast which started with a record by Screaming Lord Sutch himself -"Jack the Ripper" - was on very low power and was only audible within a close radius of the Fort. However, within a few days the transmitter power had been increased and the station was heard 10-15 miles inland in Essex an North Kent. The wavelength was also now being announced on air as 20

0m.
Promoted as "Britain's First Teenage Radio Station" broadcasting hours for Radio Sutch, although advertised as 12 noon - 2.00pm and 5.00pm - 11.00pm, were erratic, with DJs oversleeping and consequently sometimes opening transmissions up to an hour late. Another reason for the sporadic broadcasts was that, initially at least, the station's transmitter was battery powered and had to be turned off while new batteries were connected or flat ones recharged. Eventually however, the Fort's original wartime generator was repaired and put into working order, but none of the equipment used by the station was of professional broadcast standard and the poor sound quality and weak transmission signal reflected these deficiencies.
Musically Radio Sutch's output favoured rock and roll, rhythm and blues and country and western artists. Reg Calvert used Radio Sutch to extensively promote the various artists and pop groups he managed through a partnership with Terry King and the King Agency.
Regular audience figures for Radio Sutch were never reliably obtained, but they were generally accepted to be only a few thousand compared to the millions attracted to the station's contemporary offshore competitors, Radio Caroline and Radio Atlanta.
By September 1964 Screaming 'Lord' Sutch, having been offered a concert tour in Australia and New Zealand, was no longer interested in further involvement with the radio station he had founded some four months earlier. His manager, Reg Calvert, who had been the driving force behind the project anyway, acquired Sutch's interest and took over complete responsibility for operating the station. Record shop owner Eric Martin, who had arranged tendering services and supplies for Radio Sutch, became Station Controller and Manager of the new station - Radio City.