Radio Caroline South - History
1964
Radio Caroline South came on the air at 6.00am on 3rd July 1964 from the former Radio Atlanta ship, Mi Amigo, following the merger of the two rival stations. The original Radio Caroline ship, MV Caroline, sailed to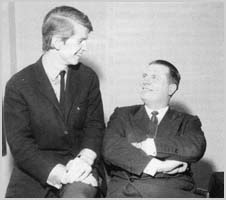 the Isle of Man to become Radio Caroline North.
With the two sister stations Radio Caroline was now able to offer audiences and advertisers what was, in theory, a national daytime commercial radio station. However, the North and South stations each broadcast their own independent programmes and developed quite separate identities.
On Radio Caroline South the former Radio Atlanta transmission hours of 6.00am-8.00pm were retained at first, even though listeners in that station's reception area had been used to the late night weekend programmes now being enjoyed by audiences in the north.
Although the outlook appeared promising for the new 'national' offshore station some unexpected problems arose from the merger. Several Atlanta DJs refused to join the new Caroline network and Radio Atlanta General Manager, Leslie Parrish, resigned over a difference of opinion on policy matters.
On Caroline South, over which Allan Crawford retained a significant degree of control, DJs were continually being instructed to play his record company's cover versions of hit singles - as had been the policy on Radio Atlanta. This policy caused resentment from the former Radio Caroline DJs, who previously experienced freedom of choice over which music they played, and this undoubtedly had a detrimental effect on the programming output of Caroline South.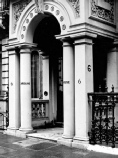 Shortly after the merger Radio Caroline moved its administrative headquarters to a large three storey building at 6 Chesterfield Gardens - renamed Caroline House - in the heart of London's Mayfair. Here, housed on separate floors of this excessively spacious, but most impressive building, were the station's advertising sales team, the administration offices, press and public relations staff and the listener enquiries and promotions department. Studio facilities were also built in the basement to record commercials and promotions on tape for later transmission from the two ships.
In order to deal with th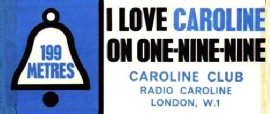 e vast number of enquiries from listeners for information about the station and for items of publicity material such as badges and car stickers, the Caroline Club had been launched shortly before the merger with Radio Atlanta. After the merger on 2nd July, the Caroline Club was extended to offer membership to listeners on a nationwide basis and the first "Caroline Club Requests" programme was aired on Radio Caroline South on 11th July 1964.
1965
As 1965 dawned both Radio Caroline stations were undoubtedly market leaders in offshore commercial radio, but Caroline South's position was about to be seriously challenged by Radio London, which had arrived just before Christmas 1964.
A milestone wa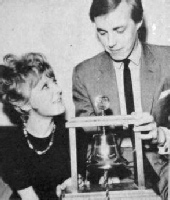 s reached at Easter 1965 when Radio Caroline celebrated its first birthday. To mark the occasion the station introduced four 'Bell Awards' which were presented to various artists for their contribution to musical entertainment during the preceding twelve months. Recipients were -
The Animals - best group record of the year (

House of the Rising Sun

)
The Beatles - best and most consistent artists
Petula Clark - best female recording (

Downtown

)
Tom Jones - best male recording (

It's not Unusual

)
Birthday messages and greetings from over twenty artists were also recorded and included in programmes on both the North and South Caroline stations during the Easter weekend.
However, at the end of its first year on the air, in March 1965, Caroline South was struggling to achieve an average income of just £1,000 per week. The growing popularity and professionalism of Radio London contrasted strongly with the weaknesses of Radio Caroline's management structure and commercial airtime sales techniques. These deficiencies were to cause further internal problems at Radio Caroline later in the year.
It was decided to revamp the station's tired and out-dated format - something which had never been addressed before - in the face of the stiff competition from Radio London. A news service was introduced in April 1965 and in May the Caroline South DJs were re-launched as personality "Caroline Good Guys", modelled on a similar successful initiative by one of New York's most popular music stations of the mid- sixties, WMCA. But most importantly programme content was changed to a format based on the "Sound 65" chart although this was later changed to the "Caroline Countdown of Sound", a Top 50 chart.
On 5th March 1965 the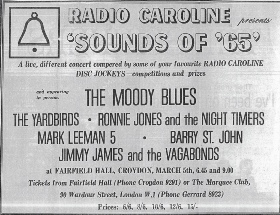 station staged its first live concert 'Soundsof 65' at the Fairfield Hall, Croydon to further promote the format change.
Unfortunately this sudden transformation in style and format - effectively an Americanisation of the station, diluted for the benefit of British listeners - did not come across to the audience in quite the way it was intended. The Caroline DJs, or "Good Guys" were uncomfortable with their new image and many of the sponsored programmes on the station at that time conflicted both in content and presentational style with the hurriedly intr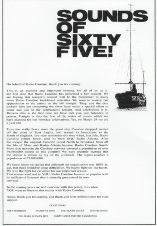 oduced psuedo-American format.