Radio Caroline South - History (6)
The concept of this promotion was that large cash prizes were offered to listeners who successfully solved clues broadcast during the 'Cash Casino' slots - aired hourly from 9.00am to 1.00pm each day. Major brand names sponsored the competition and listeners were required to submit a product proof of purchase (usually a carton flap or bottle label) with their Cash Casino entries and Radio Caroline used these to demonstrate to individual sponsors the enormous success of the promotion.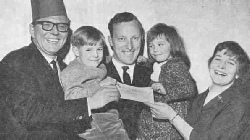 The Cash Casino programme segments, hosted by Canadian DJ Bill Hearne, were taped at Caroline House and aired simultaneously on both the North and South ships. Each segment had a different sponsor and contained a new clue (in the form of a rhyming couplet) each day. Listener's answers were 'drawn' from a mail sack during each segment and £10 was added to the jackpot total for every incorrect answer drawn. Within the first eleven weeks of the competition over one million entries were received.
Other major sponsorship deals were also arranged by Terry Bate including "Lucky Birthday Bonanza" and "Partners in Profit", all of which gave Caroline, and in particular Caroline South, a far more commercially successful sound, generated much needed income and heightened audience awareness of the station.
1967
In January 1967 it emerged that Radio Caroline was operating a 'payola' system for playing records outside its Top 50 chart. The station admitted that it charged £100 to play a new release for 2 weeks and if after that time the record had not entered the Top 50 chart it was removed from the playlist. In contrast promotion of the station's own record label, Major Minor, which Philip Solomon had launched in November 1966, was increased from the initial one play per half hour to a point where by the middle of 1967 records released by the label's artists constituted a very significant proportion of overall programme content.
With the passing of the Marine etc. Broadcasting (Offences) Bill by Parliament on 30th June 1967 the offshore stations knew that they would either have to close or make elaborate alternative financial and staffing arrangements to circumvent the legislation and stay on the air.
Some stations had already begun to make alternative arrangements earlier in the year in case their efforts to defeat the legislation failed. In January 1967 Radio Caroline staff took over the Roughs Tower Fort off Felixstowe, which was clearly outside the then British territorial limits. Radio Caroline's personnel removed much of the wartime superstructure and created a helicopter landing pad on the Fort's platform. The station intended using the Fort as a supply and accommodation base for servicing the Caroline South ship, enabling food and fuel to be stockpiled there for later transfer to the radio ship without directly contravening the Marine etc. Broadcasting (Offences) Act.
However, another offshore radio station operator also had plans for Roughs Tower. After his prosecution and conviction in January 1967 Roy Bates decided to move the Radio Essex/BBMS transmitting equipment from Knock John Fort to Roughs Tower and there were a number of violent disputes between the two groups until Bates's group took total possession of Roughs Tower in April 1967.
The Radio Caroline organisation made a number of attempts to regain a hold on the Fort but were constantly repelled by Bates's men. This rivalry came to a violent head on 27th June 1967 when Radio Caroline sent a boarding party in an attempt to finally reclaim possession of Roughs Tower, but, as the Caroline party tried to climb onto the Fort Roy Bates's men opened fire on them with petrol bombs and guns. Ronan O'Rahilly said he had plans for the Fort which were nothing to do with broadcasting, claiming it was to be developed as a health centre and holiday hotel.
Roy Bates also claimed the Fort was his and although the Radio Essex equipment was on board he did not intend to set up a radio station. Although Essex Police met both Caroline's tender, Offshore Two , and the lifeboat when they returned to port and took statements from those on board no action was taken over the incident because Roughs Tower was outside British territorial limits and the police had no powers to act against either party. (See I WAS THERE in the Interactive Zone on he right)
In March 1967, Radio Caroline had asked its British staff to consider giving up their citizenship if they wished to remain with the station after the Marine etc. Broadcasting (Offences) Bill became law. The station also engaged more American and Canadian staff to enable it to continue broadcasting and made arrangements with a French public relations firm to secure advertising from various European sources. Meanwhile Terry Bate used his company in Toronto to try and secure advertising for the station from businesses in North America and an office was opened in Holland in May 1967, managed by South African Basil van Rensberg, to act as a new headquarters for the station after the British legislation had come into effect.