Radio Caroline South - History (7)
The station also announced that once the British legislation was enacted it had plans to secure further income by launching a second service from the Mi Amigo in addition to Radio Caroline South. This service was to be staffed by Dutch DJs with programmes directed at Holland, tapping into the lucrative Dutch advertising market.
Poet, dramatist and founder of the English Stage Company, Ronald Duncan announced in June 1967 that he had offered his services to Radio Caroline after the new legislation had become effective. He had already written a series of brief sketches pointing out the likely effects, in terms of freedom of speech and freedom of the individual, of the provisions contained in the Marine etc. Broadcasting (Offences) Bill and these had been broadcast on Radio Caroline since the spring of 1967.
The Marine etc. Broadcasting (Offences) Act received the Royal Assent on 14th July 1967 and Postmaster General Edward Short announced that its provisions would come into effect one month later, on 15th August 1967. Radio Caroline alone said it would defy the new law and continue broadcasting - contingency plans for this to happen had already been put in place by the station's management. In June 1967 all British members of Radio Caroline's board of directors resigned, except Philip Solomon, who held Irish citizenship and was therefore able to continue running the station with fellow Irishman Ronan O'Rahilly. Meanwhile, on both the North and South stations many British DJs were saying during the early days of August 1967 that they would stay on with Radio Caroline and defy the new law.
With 15th August 1967 less than a minute old only two British offshore radio stations remained on the air in defiance of the new law - Radio Caroline North and Radio Caroline South. On board the Mi Amigo, home of Radio Caroline South were three Englishmen - DJs Johnnie Walker and Robbie Dale as well as newsreader Ross Brown.
At 12 midnight Johnnie Walker and Robbie Dale, sounding almost as if they were reassuring each other as much as the listeners, announced that the station, now renamed Radio Caroline International, would continue broadcasting. By continuing the three Englishmen on board the Mi Amigo now each faced up to two years in prison and a £400 fine if they ever returned to Britain.
During the previous day the rest of the British staff had left the Mi Amigo for the final time and in future the station's tender would travel not from Essex, but from Holland, making a journey to and from the Mi Amigo of about 20 hours. Any British staff would have to live abroad rather than run the risk of being arrested on their return to the UK, but in fact those who defiantly remained with the station did later return to Britain on a regular basis and although the authorities were aware of this no direct action was taken against those individuals.
Those who remained on board both Caroline ships after 15th August 1967 began to experience increasing feelings of isolation. This was particularly true for Caroline South staff who, apart from contact with their own landbased office had always had the neighbourly company of crews aboard the Galaxy (Radio London) and the Laissez Faire (Radio 355 and Radio 227).
On land Carolin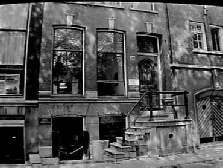 e House in London was closed and the station's operational headquarters were transferred to a new office in Amsterdam. (See I WAS THERE in the Interactive Zone on the right)
Ronan O'Rahilly, as an Irish citizen, continued to operate quietly from an office at the former Radio Atlanta headquarters in Dean Street, London using the cover of a company named Mid Atlantic Films. In response to any enquiries from the press or authorities O'Rahilly claimed now to only be involved in the film production business. Although this was partially true the company also acted as a secret base for recruiting Radio Caroline staff and obtaining supplies of records.
Radio Caroline offices were also claimed to exist in New York, Paris and Toronto, but in fact the New York office was only an accommodation address in Madison Avenue and the Toronto office was the headquarters of the company run by Terry Bate. Neither office in North America produced any real advertising contracts for Radio Caroline, although the number of American religious programmes aired by both the North and South stations did increase to about two hours a day during the latter part of 1967.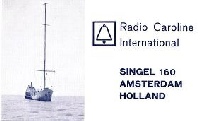 Revenue from these sponsored religious programmes undoubtedly helped keep the stations on the air in the absence of any 'mainstream' advertising income. The Paris office, too, did not succeed in generating advertising income for the station and plans to open further offices in Tokyo and Germany never came to fruition. The station's new address in Holland was not revealed to listeners for over two weeks after the Marine etc. Broadcasting (Offences) Act had come into force, a factor which added further to the feeling of isolation for DJs on the radio ships who had been used to receiving a regular supply of fan letters and record requests from their audiences.