Radio Caroline - History
Radio Caroline's founder, Ronan O'Rahilly, was the rebellious son of a wealthy Irish businessman. His father, Aodhogan O'Rahilly had operated, amongst other ventures, the Preston-Greenore ferry service on behalf of British Railways and subsequently purchased the port of Greenore when that service was discontinued. O'Rahilly's grandfather had been killed while charging a British machine-gun post in Dublin during the 1916 Easter uprising.
Ronan himself had come to London in the late 1950s and joined an acting school, studying the 'method' technique of acting. Subsequently Ronan and some friends launched their own acting school - Studio 61. Two of those friends - Christopher Moore and Nicky Henty-Dodd (Simon Dee) were later to also become involved with Ronan in the launch of Radio Caroline.
In the early 1960s Ronan O'Rahilly had become involved in running the Scene Club in Great Windmill Street at the heart of London's Soho district as well as promoting records for the Ric Gunnel Agency and groups such as Blues Incorporated, which at that time included Mick Jagger and Charlie Watts, later of the Rolling Stones.
Ronan teamed up with a fellow Irish citizen Oonagh Huggard, who also worked in the music business, and together they started promoting and staging live music events featuring up and coming artists at various venues in London.
During one of his promotional trips to record companies Ronan visited Allan Crawford's Merit Music offices in Dean Street, London. At that time Crawford was looking for new investors in Project Atlanta, which planned to launch an offshore radio station and he shared his ideas with O'Rahilly.
At that point O'Rahilly himself could not provide financial backing for Crawford, but on a visit to Ireland he introduced him to his father and showed him the port of Greenore. During the course of this meeting with O'Rahilly's father Crawford made available the results of research he had carried out for Project Atlanta into the feasibility and legality of operating an offshore radio project off the British coast.
Later that year, in June 1963, Ronan O'Rahilly travelled to Texas on behalf of Allan Crawford to try and progress negotiations for the purchase of the former Radio Nord ship, Mi Amigo. Crawford had been trying to acquire the ship for nearly a year, but had been frustrated by the withdrawal of some of his investors and various obstacles placed in his way by the Bank of England over the transfer of money out of the country. In frustration at the delays the ship's American owners had sailed her back to Texas amid rumours that they would allow the CIA to use her as a floating radio station off the coast of Cuba.
During the course of his USA visit O'Rahilly visited the Mi Amigo in Galveston and spoke with Captain de Jong Lanau, of the Dutch salvage company Wijsmullers, who were advising the American owners of the radio ship. O'Rahilly found that much of the vital radio equipment had been removed from the Mi Amigo and concluded during this visit that the ship would take some time to once again become an operational offshore radio station.
Ronan O'Rahilly returned to London and reported the situation to Allan Crawford, who decided to pursue the option of negotiating a lease of the Mi Amigo, - likely to be a lengthy and drawn out process - while he continued to try and raise sufficient funds for an outright purchase.
Meanwhile Ronan had made plans of his own. He was already well aware of the concept of offshore radio - he had learned about the Voice of America ship Courier operating off the Greek coast and the hugely successful Dutch offshore station, Radio Veronica and was convinced that he could organise a station of his own far more quickly than Allan Crawford's Project Atlanta. He assembled his own team - including acting school colleagues Christopher Moore, Nicky Henty Dodd (Simon Dee) and his music business associate, Oonagh Huggard - and set about raising money to fund the idea.
Ronan was helped in this respect by his friend Christopher Moore, who introduced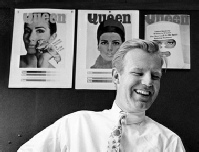 him to his flatmate Ian Ross. In turn Ian Ross introduced O'Rahilly to his father Charles, a City of London businessman and it was his desire to help his son (and Ronan) that led to him encouraging a number of wealthy business contacts to back the offshore radio project. Key among these backers were Jocelyn Stevens, owner of Queen magazine and his father-in-law, John Sheffield, chairman of the Norcros Group which helped small companies raise funding for their businesses.
For a sho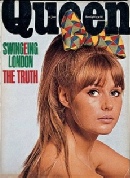 rt while before and just after Radio Caroline was launched the offices of Jocelyn Stevens' Queen magazine in London's Fetter Lane were used as a temporary headquarters.
Other backers, who for various reasons at the time preferred largely to remain anonymous, included Charles Orr Stanley, Chairman of the Pye Group who had also invested in Project Atlanta and harboured plans of his own to launch commercial radio stations once legislation permitted (See Almost There ! In the Why Go Offshore? Gallery on the Ground Floor for more details about Pye and its commercial radio aspirations).
A company - Planet Productions Ltd - was formed in Ireland on 27th February 1964 with the stated objectives (amongst others) of "carrying on the business anywhere in the world of radio broadcasting .." and " to own, rent, operate, conduct or manage broadcasting stations (whether on land or at sea) for the transmission of programmes". Ronan O'Rahilly, Herman Good (a Dublin solicitor) and Richard Condery (a financial adviser) were named amongst the company's directors.
Ronan O'Rahilly led Crawford to believe that both of them could co-operate and launch two offshore radio stations - one to serve the south east of England (operated by Crawford) and the other to serve northern England and Ireland (operated by O'Rahilly). Indeed, the two organisations were actually working very closely together - the offer to use the port of Greenore had already been made to Crawford by the O'Rahilly family and in return Allan Crawford allowed O'Rahilly's team to use the Radio Atlanta recording studios and facilities to stockpile pre-recorded programmes. The Mi Amigo, after her lease by Project Atlanta in late December 1963, was also used to transport two new transmitters from Texas to the Bahamas for export to Europe to be installed on O'Rahilly's ship the Fredericia.
Quite quickly O'Rahilly and his colleagues managed to raise sufficient funding to enable them to progress with their plans. Ronan contacted Captain de Jong Lanau of Wijsmullers (who he had met on his visit to the Mi Amigo in Texas) and asked for his help in finding a suitable ship. The result was the acquisition on 30th December 1963 - for cash - of the former Danish passenger ferry Fredericia, which had r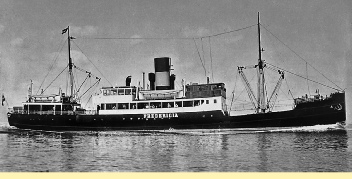 ecently been taken out of service in Scandinavia.
The ship was initially purchased in the name of one of Ronan O'Rahilly's 'cover' companies - Cross Channel Container Services Ltd. and moved to Rotterdam where she arrived on 8th January 1964. She was briefly renamed Iseult and ownership was transferred to a Lichtenstein registered company - Astrenic SA.
While in Rotterdam she was overhauled and a new generator was installed along with the two new Continental transmitters which had arrived from the USA via the Bahamas. She sailed from Rotterdam on 13th February 1964 heading for Greenore in Ireland, the port owned by O'Rahilly's father where work to equip the Fredericia (by now re-named Caroline) for her new role could be carried out in great secrecy.