Radio Caroline - History (3)
Coincidentally also on 7th April Postmaster General Reginald Bevins told the House o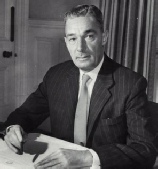 f Commons that a number of actions were being planned by the Government against Radio Caroline, including if necessary jamming the station's signal. He also assured the House that advertisers had agreed to boycott Radio Caroline, that the respective record and music industry associations were co-operating with the Government in taking action against the station and also confirmed that Panama had withdrawn the radio ship's registration.
Various authorities made life as difficult as possible for those operating Radio Caroline and subsequent offshore radio stations. Crew and supplies travelling to and from the radio ships were required to undergo Customs clearance and inspections by immigration, Trinity House, port health authorities, the Board of Trade and local harbour authorities
However, the nearest any official body came to attempting direct intervention in the early maritime operation of Radio Caroline occurred on 6th May 1964 when, the Royal Navy vessel HMS Venturous came alongside the MV Caroline and requested permission to board the ship to inspect her bonded stores.
Permission was refused by the Captain of the Caroline on the basis that it was a foreign-registered ship anchored in international waters. As a gesture of goodwill he did offer to allow one man aboard, via a lifeboat, but this offer was refused by the Customs officials who had come out with the Royal Navy on board Venturous. Eventually the Venturous sailed away from the MV Caroline without having succeeded in putting a man on board the radio ship.
Listeners to Radio Caroline were kept fully informed of this incident by DJ Simon Dee through live newsflashes interrupting normal programmes. This high profile publicity probably deterred the Navy and HM Customs from taking any action to board the Caroline by force. The Government preferred to await international action to outlaw offshore broadcasters as the Postmaster General informed the House of Commons on 2nd June 1964.
Outside the Government various organisations and authorities also made threatening noises against Radio Caroline. In April 1964 Phonographic Performances Ltd. (who collected copyright fees for any public performances of their members' recorded works) threatened to issue a writ against Radio Caroline to prevent the station 'stealing' copyright material. Although Radio Caroline (and some later stations) did offer to pay copyright fees, Phonographic Performances was in a difficult position - on the one hand the organisation vociferously criticised offshore radio stations for not paying fees, but at the same time it did not want to be seen to accept any monies from what, in its opinion, amounted to illegal business activities.

In another case of dual standards, major record companies adopted both a public and a private attitude to the offshore broadcasters. Publicly they refused to co-operate with the stations, but behind the scenes all companies or their representatives made great efforts to ensure that copies of the latest releases were made available (unofficially) for the offshore stations to play.
Advertisers also were at first reluctant to buy airtime, preferring to wait and see what the station sounded like, the size of audience it attracted and more importantly, what, if any, official action would be taken against it or anyone who was seen to be supporting it commercially.
During the early months of Radio Caroline's transmissions the station's programmes consisted of DJs announcements and, of course, music all day - which was the great novelty and attraction for listeners. Many (but not all) of the early programmes were from the pre-recorded stock which had been made by Simon Dee, Chris Moore, John Junkin and Carl Conway in London studios while the station was still in the planning stage.
The programme content in those early days was a blend of pop music mixed with established 'middle of the road' material. But, even though many of the early programmes were pre-recorded and contained music which was not pop or chart material, audiences in their millions, young and old alike, loved the informality of the station and most of all the unique phenomenon of music broadcasts being available all day, every day. Unforeseen incidents affecting the ship and frequent comments about weather conditions and daily life onboard also captured listeners' attention and helped create a 'bond' between the DJs and their audiences.
In response to g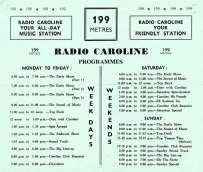 rowing audience demand Radio Caroline soon increased its airtime from the initial twelve hours a day and continued broadcasting until 10.00pm each night. This was subsequently modified to 8.00pm because of poor night time reception caused by interference from continental stations. Later Radio Caroline started to reopen again on Saturday and Sunday mornings at five minutes past midnight (when the continental stations had closed) and stayed on the air until 3.00am with late night party music.
Radio Caroline's landbased operation was initially located in Jocelyn Stevens' Queen magazine offices in Fetter Lane, London with the airtime sales team operating from rented rooms in 54/62 Regent Street, London. But, with the enormous success of the station more permanent accommodation was clearly needed. Additionally Jocelyn Stevens became uneasy about the presence of Radio Caroline in his offices after a writ was delivered there from music copyright agents claiming the offshore station was in breach of copyright laws.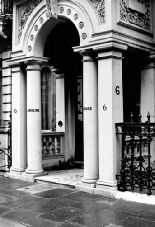 Eventually a new headquarters was found - 6 Chesterfield Gardens (re-named Caroline House) - a prestigious 7 storey building in the heart of Mayfair, London. The building accommodated studios in the basement (used for recording commercials and celebrity interviews - operated by Caroline staff, but under the name Radio Programme Planners Ltd) and further floors with management, administrative and sales staff. Top floors of the building were sub-let to various music industry organisations including The Who, The Moody Blues and Trax Records, while the top floor was sub-let to a photographic studio.