Radio London - History
On 19th November 1964 the former US Navy minesweeper Galaxy dropped anchor within sight of the Shivering Sands Fort (home of Radio City) and started test broadcasts using the call sign Radio London.
The Galaxy had been fitted out as an offshore radio station in Miami, from where she sailed on 22nd October 1964. Radio London was the brainchild of Don Pierson, a Texas businessman who in April 1964 had heard about the launch of Radio Caroline, paid a fact finding visit to Britain to see what offshore radio was all about and returned to the USA to develop his own project.
Radio London's initial investors included:- Don Pierson, a Dallas car dealer (Dodge and Chrysler), owner of the Abeline National Bank and Mayor of Eastland, Texas,Tom Dannaher, owner of Wichta Falls Airport, Mal McIlwan another car agency dealer (Cadilac and Ford) and Jack McGlothlin, a Texas oil millionaire.
Pierson was manager of the project, McIlwan dealt with sales, McGlothlin was responsible fo

r legal and financial arrangements while Dannaher supervised the fitting out of the ship. Gordon McLendon (owner of Dallas station KLIF and ex-partner in the Swedish offshore station Radio Nord) acted as programme consultant to the new station while Mal McIlwan hired ex-advertising man Philip Birch as Radio London's Managing Director in England. These two men had known eachother from the days when Birch worked in America as an account executive (mainly on the Ford Motors account) with J Walter Thompson, then the world's largest advertising agency.
Radio London was run by a highly professional and well organised team and from the outset it threatened to become a serious challenger to Radio Caroline South. The Galaxy boasted a powerful 50Kw transmitter and claimed to have an aerial height of 212' enabling the station to reach most of southern England and the Midlands.
Additionally, Radio London's programming and advertising sales teams were far better organised than those of its rivals and the station sounded professional and successful from the start. Head of Sales at Radio London was Alan Keen who left Fleetway Publications, where he was Assistant Advertising Manager with Woman's Mirror, to join the new radio station. Another advertising professional, Dennis Maitland also joined the sales department of Radio London from book and newspaper publishers Odhams Press, where he was Advertising Manager for Woman's Weekly and Housewife magazines. He had also previously worked in advertising sales at the Daily Mail.
Because of the contacts Radio London had been able to establish through this experienced sales team the station was able to go on the air with a number of 'blue chip' advertising contracts from day one, adding considerably to the station's instantly professional sound.
Stories of the professionalism and technical superiority of Radio London worried those managing Radio Caroline long before the Galaxy arrived off the British coast. It is now known that during the weeks before Radio London came on the air Ronan O'Rahilly, aware of the new station's superior sales expertise, approached Radio London Managing Director, Philip Birch suggesting a merger of the two advertising sales organisations - Caroline Sales and Radlon (Sales). From Radio London's point of view this was never taken as a serious proposition, and a response containing a series of demands which were inappropriate and unacceptable to Radio Caroline, quickly put an end to the suggestion.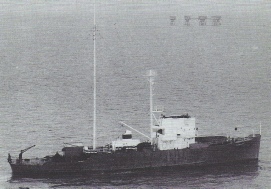 Radio London's ship first anchored in the Thames Estuary, near to Shivering Sands Fort (home of Radio City), however, Ronan O'Rahilly helpfully pointed out to his new rivals that their chosen position was likely to be inside British territorial waters. The Galaxy moved to an anchorage off Walton-on-the-Naze, Essex, near to the Mi Amigo, home of Radio Caroline South, and test transmissions from this new position started on 5th December 1964. Radio London started regular transmissions at 6.00am on 23rd December 1964.
Radio L

ondon's format was strictly based on the Top 40 (known on the station as the Fab 40). Initially the American backers had wanted to name the station Radio KLIF (London), the Big K, (after Gordon McLendon's station in Dallas) with tapes of the Dallas programmes being rebroadcast in an undiluted American style to an unsuspecting British audience. However, they eventually settled for a change of name to Radio London (Big L), with a watered down version of the highly Americanised Top 40 format, which it was thought would be more acceptable to British listeners.
This fundamental disagreement over format, although patched up at the time of the station's launch in 1964, was to lead quite soon to Don Pierson and some of the other initial backers withdrawing from the Radio London project to set up their own all-American format offshore radio stations - Radio England and Britain Radio.
1965
Radio London sounded far more professional and in touch with listeners' current musical tastes than any of the other offshore broadcasters and consequently came across as a more listenable station, particularly in comparison to Radio Caroline South, which in the early months of 1965 was suffering from an identity crisis due to a lack of a clearly defined programme format.
On 20th

April 1965 the crew of Radio London played a significant part in the rescue of a USAF pilot who was forced to ditch in the North Sea. Flight Lieutenant John Winn was forced to eject from his plane, a F.101 Voodoo Tactical Jet, which had developed engine trouble on the return leg of a practice flight from its base in Laon, France. When he hit the sea Flight Lieutenant Winn injured his back and was temporarily knocked unconscious. The Radio London tender diverted to the scene of the crash and recovered Flight Lieutenant Winn from the sea before making its way to Harwich where an ambulance was waiting to take the injured airman to hospital.