Radio Mi Amigo - History
1974 started with a new station taking to the air - Radio Mi Amigo from Radio Caroline's ship the MV Mi Amigo.
There had been some test transmissions in September 1973 (using the titles 'Joepie' and 'Radio 385') and, at the beginning of October, under the name Radio Mi Amigo. However the collapse of the aerial mast on the MV Mi Amigo in October 1973 delayed the official start of the station. Further tests took place at the end of December, before the official launch of Radio Mi Amigo on 1st January 1974.
Radio Mi

Amigo was the brainchild of Belgian businessman Sylvain Tack, who had seen the success of Radio Atlantis and had arranged to hire the same air time from Radio Caroline. The station established offices and landbased studios above a record shop in Breda, Holland and used a box number in Hilversum for listeners' requests and letters.
The hour-long gap between the end of Radio Mi Amigo's Flemish/Dutch daytime programming and the start of Radio Seagull's (and later Radio Caroline's) evening service was filled from 10th January by an 'International Service' of Radio Mi Amigo, presented by English DJs with Dutch and Belgian commercials and 'plug' records selected weekly by the Mi Amigo office on land.
Radio Mi Amigo immediately became very popular both with listeners and adv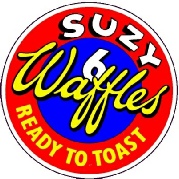 ertisers. A large number of companies in Belgium, Holland and France booked airtime on the station, which also heavily promoted products in which owner Sylvain Tack had a business interest - Suzy Waffles, Start Records and Joepie music magazine.
With the progress of legislation through the Dutch Parliament during the spring and summer of 1974 to finally outlaw offshore broadcasting Radio Caroline and Radio Mi Amigo announced that they would continue broadcasting after the new law came into effect at midnight on 31st August.
During the afternoon of 29th August 1974 the Mi Amigo sailed across the North Sea to a position off the coast of England, near the Kentish Knock Lightship. Broadcasts of both stations on board the ship - Radio Mi Amigo and Radio Caroline - continued as normal during the voyage.
At the end of normal transmissions on 31st August 1974 (just as all the other Dutch offshore stations were closing) listeners to Radio Mi Amigo were invited to tune in again as usual at 6.00am the following morning. However, when the station did re-open on 1st September 1974, now in contravention of the new Dutch law, old programme tapes were aired along with a number of live shows by English DJs from Radio Caroline because a few days earlier Dutch police had raided the station's offices in Breda and confiscated the supply of programme tapes.
Both stations operating from the Mi Amigo now gave a mailing address in Playa de Aro, Spain and it was announced that in future Radio Mi Amigo programmes would be recorded in that country and the ship serviced and supplied from a Spanish port.
In order to avoid problems with the Dutch authorities Radio Mi Amigo programmes after the beginning of September 1974 were ostensibly targeted towards a Belgian audience, to the exclusion of most Dutch material. However, a number of commercials previously aired on Radio Veronica and RNI's Dutch Service were broadcast during this time, although the companies concerned denied booking airtime on the station.
On 26th September 1974 Dutch police, suspicious that the station was still operating from the Netherlands, raided the premises previously used in Breda, but were unable to find any evidence of programme material being recorded there. Although station owner Sylvain Tack publicly denied that he still had anything to do with the operation of Radio Mi Amigo, programmes were in fact secretly being recorded at one of his Suzy Waffles factories in Buizingem, Belgium. However, after a Dutch television programme broadcast this information during October 1974 recording was hurriedly transferred to studios in an isolated farmhouse near Oprakel, Belgium.
1975
By February 1975 with no legal action taken against the station by either the Belgian or Dutch authorities more Dutch programming was gradually reintroduced. But this apparent lack of action by the authorities ended on 17th February when the farmhouse at Oprakel was raided by police. Three people, including two of the station's DJs were arrested and equipment confiscated and removed.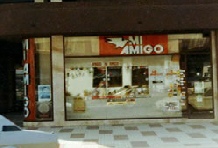 Station owner Sylvain Tack hurriedly left Belgium for the comparative safety of Spain where he admitted, for the first time since September 1974, that he was still the person behind Radio Mi Amigo. Tack set about arranging new programme recording facilities for his station in Spain, first at his villa in Playa de Aro, later moving operations to premises in the centre of this popular holiday resort.