Radio Veronica - 1960's History (3)
1961
With complete management and financial control the Verweij brothers set about improving Radio Veronica in every way possible. They worked hard at creating and cultivating a respec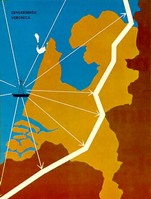 table business-like image for the station, including the payment of all taxes and copyright fees to the appropriate authorities and within a few months of their takeover the station was employing a total staff of 40 both at sea and in the land-based studios and offices. Early in 1961 the station's land-based operations were moved to Hilversum, Holland's broadcasting 'capital'.
Throughout 1961 improvements were made in many areas by the new management and as a direct result increasing interest was shown by advertisers and commercial income soared. Further operational improvements were made as a result of this increased revenue - the land-based studio facilities were gradually upgraded and a small fishing boat, Ger Anna, was acquired by the station to provide a regular tender service to the Borkum Riff.
Radio Veronica also benefited from the short-lived test transmissions of English language station CNBC. The requirements of CNBC meant that extra studio facilities had been built to record programmes and the professionalism of the more experienced English and Canadian announcers had had a positive influence on their Dutch counterparts.
1962
By the beginning of 1962 Radio Veronica, after a shaky start, had become as popular and profitable in Holland (perhaps even more so) as her contemporaries Radio Mercur and Radio Nord had in Scandinavia. A listener's club - Vrienden van Veronica (Friends of Veronica) - was established in July 1962.
Radio Veronica also seemed to be under no apparent threat at this time from the Dutch government, unlike her Scandinavian contemporaries. During the first half of 1962 four Scandinavian governments had enacted new legislation to close the stations off their coasts, but despite setting up a Commission in July 1962 to draft a Bill outlawing offshore radio, the Dutch Government, partly because of its own instability and partly because of the immense popularity of Radio Veronica, did not actively pursue the introduction of legislation to close the station.
1963-1965
Radio Veronica continued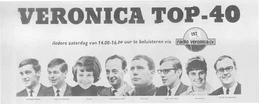 to flourish throughout 1963, attracting larger audiences and increasing numbers of advertisers in the apparent absence of any Government action being taken to silence it.
In 1964 the Veronica Top 40 chart was introduced and the first Top 40 programme was broadcast on 1st January 1965. There were also some live programmes from the Borkum Riff, all of which added considerably to the vibrant sound of the station - and further increased its popularity in Holland.
The station's operating base was also changed in November 1964. The original vessel, Borkum Riff was replaced by the larger and more luxurious Nordeney, an ex-trawler, which was completely refitted for her new role as a floating radio station.
1966-1969
1966 saw the introduction of some more major changes for Radio Veronica. On 1st January a news service was introduced – two minute bulletins each hour. The format of the station was changed from quarter and half hour long programme segments to two or three hour shows, along the lines of the British offshore stations. The station also started broadcasting more live programmes from the radio ship rather than relying on a taped output. These changes were brought about following a visit to the United States by the station's management to study the latest broadcasting and programme format techniques.
During the latter part of 1966 and early 1967 Radio Veronica briefly encountered competition from two other Dutch language stations, Radio Dolifjn and later Radio 227. Both these would-be rivals for Dutch listeners were based on board the Laissez Faire anchored off the English coast and programmes were directed at Holland using a powerful 50Kw transmitter.
However, neither station was commercially successful, and the closure of the Dutch language broadcasts from off the British coast meant once again that Radio Veronica had the Dutch market to itself, although neither of the potential rivals had made an impact on the established station's audience or advertising figures.
Ironically Radio Veronica attracted a substantial British audience in 1968 following the sudden closure of both Radio Caroline stations in March of that year. Response from British listeners to the station's output was significant enough for the management to introduce a limited amount of English language programming. Also from 15th July 1968 Radio Veronica started an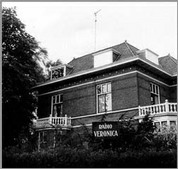 'International Service' hiring airtime on Radio Popularie de Mallorca and broadcast a series of pro

grammes hosted by DJs from the station.
In March 1969 Radio Veronica moved its land-based studios and administrative offices to larger premises - a specially converted villa in Utrechtseweg on the outskirts of Holland's broadcasting capital, Hilversum.