Radio Veronica - 1960's History
1959
A meeting of radio dealers, convened by Lambertus Marie (Bep) Slootmans, was held in the Krasnapolsky Hotel in Amsterdam on 15th October 1959 to try and obtain agreement on a policy towards the import of foreign made radios.
But something more radical and exciting came out of the meeting. Also present was Max Lewin, who had long nurtured the idea of setting up a political radio station outside Dutch territory, and Henricus (Henk) Oswald, a plastics manufacturer who had watched the development of Radio Mercur in Denmark and saw the commercial possibilities for a similar station being established to serve Dutch listeners.
There was agreement in principle to investigate the legal position and commercial viability of setting up an offshore radio station and at a further meeting a few days later 19 businessmen agreed to invest money in the project, now known formally as Vrije Radio Omroep Nederland (VRON).
With about £10,000 of financial backing pledged from this meeting Slootmans, Lewin and Oswald started to develop the project. However,after only three weeks Max Lewin pulled out of the project because of disagreements with his partners.
A further meeting of VRON shareholders was called on 16th November 1959, again at the Krasnapolsky Hotel, supposedly to enable those present to hear a 'test broadcast' of VRON from the North Sea. Shareholders, on hearing what they understood to be the test transmission were impressed that such rapid progress had apparently been made with the project and immediately agreed to provide further financial backing.
The whole event, however, was a sham, stage managed by Slootmans and Oswald and designed to secure that all important additional financial support. The transmission had in fact come from Oswald's office less than 200 yards from the Krasnapolsky Hotel!
Two Hague advertising agents, Will J Hoordijk and Jan Beeuwkes had also started making plans for an offshore radio station, but they lacked sufficient financial resources to launch their idea. They did, however, know of a suitable vessel was for sale in Emden, West Germany which would make ideal base for an offshore radio station. Frustrated financially Hoordijk and Beeuwkes decided to approach the VRON organisation with a view to pooling their respective knowledge and resources into one project.
The two groups agreed to co-operate and on 9th December 1959 they purchased the Borkum Riff. A crew was engaged and work started almost immediately to convert the vessel for her new role.
While the ship was being converted registration for the Borkum Riff was obtained from the Panamanian Embassy in London. At the same time a holding company - Anstalt Veronica – was registered in Leichtenstein.
1960
After running out of initial finance and a raid by the authorities, which resulted in the confiscation of equipment, a transmitter was eventually constructed by Oswald and on 9th February 1960 it was taken across the border into Germany for installation on the Borkum Riff in Emden Harbour. However, police stopped the van carrying the transmitter just inside the German border and ordered the driver to return to Holland where Dutch PTT officials were waiting and the equipment was confiscated.
By now VRON shareholders were becoming uneasy about the delay in gettin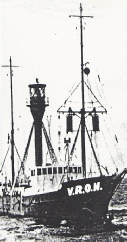 g their station on the air so the ever resourceful Oswald, this time in collaboration with Norbert Jurgens, arranged another 'test transmission', supposedly from a vessel in the North Sea. This time the transmission actually came from a deserted island on Lake Loosdercht, but to complete the illusion photographs of a German lightship, similar to the Borkum Riff, were produced. The photographs had been doctored to show the initials 'VRON' overpainted on the bow of the lightship. Yet again shareholders were duped into believing that the radio station was further advanced than it really was.