Voice of Peace - History
In Israel restaurant owner and former pilot Abie Nathan had long been capaigning for a peaceful solution to the recurring conflicts between Arab and Jew in the Middle East. He had made a number of unsuccessful attempts to arrange a peace settlement before and after the 1967 Six Day War between Israel and Egypt, but all this earned him was a fine and a prison sentence for having contact with the enemy.
1968 - 1972
By 1968 Abie Nathan had decided that the way forward in his peace campaign was to establish a radio station which could be used to air the views of both sides in the conflict and at the same time provide entertainment in the form of music which was of universal appeal irrespective of religious or nationalistic beliefs.
To get this project underway Abie Nathan established the Shalom Peace Foundation and travelled to Holland where he managed to raise some financial backing. In Holland he also located a suitable ship to act as a base for his planned radio station, the Cito, a former freighter which had been the last vessel built by the Dutch before the Nazi invasion in 1940. The Cito, renamed Peace, sailed to America in 1969 with a Captain and volunteer crew, who received only out of pocket expenses for their services.
In America Abie N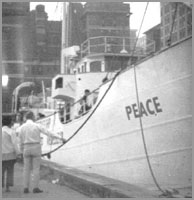 athan set about raising further funding for his project, but despite promises American businesses and authorities were not really interested. In desperation Abie Nathan started lecturing on the theme of 'Peace', and bystaging concerts, with Arab and Israeli entertainers on the same bill. At one concert in New York's Carnegie Hall Abie Nathan gave away 1,000 free tickets to likely benefactors and appealed on stage for donations towards the cost of launching his Peace radio station, but only succeeded in raising $150.
Concerts were also staged on board the MV Peace in New York Harbour, including one by American folk singer Pete Segar, but with overheads and the limited audience space on the vessel it was impossible to make a profit in this way.
Abie Nathan then tried another fund raising approach. He organised an auction of his collection of paintings, from his art gallery in Israel. Although over 6,000 people were invited to the auction only twenty actually turned up and just $28 was raised.
The fund raising difficulties he was experiencing were due in part to lack of public awareness about the Peace Foundation and its aims. The American media were reluctant to publicise the Peace Foundation Project and Abie Nathan could find no other means of publicising his mailing address for enquiries and donations, although he was convinced many people would provide support for the Peace Foundation if they only knew about it. By 1972, after almost three years of tireless campaigning he had only managed to collect less than $50,000 worth of donations, much of which was swallowed up in harbour fees for the MV Peace.
1973 - 1974
Abie Nathan then decided that it was futile to continue in this way expecting donations from the American public when he had no means of reaching them through the media. He decided instead to fund the whole project himself and returned to Israel where he sold his home, restaurant and art gallery.
With this money he returned to New York and set about equipping the MV Peace as a floating radio station. However, because of the length of time the vessel had remained moored in harbour she had deteriorated and needed much more work than originally anticipated. Abie Nathan found himself short of about $40,000 to complete the project.
After two months of waiting and hoping that somehow the additional money could be raised he tried one, last desperate tactic. He went on an indefinite hunger strike. This single action provoked immense media interest and Abie Nathan appeared on the nationally networked "Today" breakfast television programme with Barbara Walters. Within 48 hours of his appearance over $50,000 worth of donations had been received from supporters across the USA. The media coverage also resulted in an increased awareness of the aims and objectives of the Peace Foundation. Further donations quickly started to arrive, including one from the Canadian Council of Churches specifically to purchase diesel fuel for the MV Peace and to cover running costs of the radio station's first three months on the air.
With sufficient funding now available to get the project started Abie Nathan was able to press ahead with converting the MV Peace for her new role. Studios were constructed and broadcasting equipment was installed on board the vessel. On 16th March 1973 the ship left New York, making a series of test transmission while at sea. After putting into Bermuda for repairs to a leak in her hull, the MV Peace continued her voyage across the Atlantic and through the Mediterranean, eventually arriving off Cyprus in mid-April 1973.
Further test transmissions took place from a position off the coast of Israel, but a violent storm caused some damage to the MV Peace and she was forced to take shelter at a calmer anchorage off Cyprus. Here it was discovered that the storm damage had resulted in water leaking into and contaminating the ship's fuel supply so the MV Peace sailed to the French port of Marseilles for emergency repairs.
Once these repairs had been satisfactorily completed the vessel was able to return to her anchorage off Israel and continue with test transmissions. Official broadcasts for the new station - simply called the Voice of Peace - started at 8.00pm on 26th May 1973, initially on a 24 hour basis with programmes and announcements mainly in English, but some were also in French, Hebrew or Arabic. However, after a short time the hours of transmission were reduced to 12midnight-2.00am, Sunday to Friday and 10.00am - 2.00am on Saturdays.
A survey carried out in Israel shortly after the Voice of Peace started broadcasting showed that it was the most popular station amongst people under the age of 25. The station's signal in Israel and Lebanon was strong, although in Egypt, where Abie Nathan also wanted to target his peace messages, reception was usually only possible after dark.