Radio Atlanta - History
Following two failed attempts (by the Voice of Slough and GBOK) to launch offshore radio stations serving Britain another group emerged in mid 1962 with ambitious and well formulated plans.
The group was led by Allan Crawford, a New Zealand born ex-wartime bomber

pilot who had worked both in Britain and Australia as Managing Director of a music publishing company - Southern Music. In 1959 he established Merit Music Publishing Ltd in London managing minor artists and producing cover versions of hit songs on his own record labels including Rocket, Sabre, Crossbow and Carnival.
Crawford's business philosophy was simple if a little naive, he thought that increased record sales, and consequently Top 20 chart listings, could best be achieved by repeatedly promoting artists and labels to the largest possible audience. His search for a vehicle to achieve this brought him up against the established monopoly broadcasters - Radio Luxembourg had just entered into agreements to sell most of its airtime to the large record companies and the BBC had severe limitations on the amount of music it included in programmes due to 'needle time' restrictions.
Frustrated by these monopoly controls exercised by the established broadcasters Allan Crawford decided that if he started a radio station of his own he would have the means to endlessly promote his record labels and artists His attention turned to offshore radio to find a solution.
Crawford met with representatives of Ross Radio Productions, which produced many programmes for Radio Luxembourg and had been involved with making programmes for Radio Veronica's experimental English language service - CNBC. He also met with the Verweij brothers who owned Radio Veronica and visited their ship anchored off the Dutch coast.
The Verweij brothers offered Allan Crawford a share in Radio Veronica to establish English language programming. However, due to the price being requested by the Verweijs and the low power transmitter on the Veronica ship, (which the CNBC experimental broadcasts had proved did not give a sufficiently strong signal to Britain) Crawford did not take up the offer.
Allan Crawford was certain that he could establish his own offshore station less expensively and, because it would be anchored off the British coast, there was a greater certainty of the signal reaching the lucrative London and south east England market.
Crawford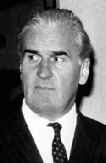 set about convincing a number of wealthy and influential backers of the potential for launching an offshore radio station to challenge the BBC monopoly. Key among these were theatre writer, pianist and transator, Dorothy 'Kitty' Black, and City businessman and one time aspiring politician, Major Oliver Smedley. Kitty Black was enthusiastic because she had already discovered Radio Mercur in Denmark and made enquiries about its operation. Olive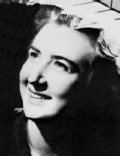 r Smedley had long been an advocate of free trade and saw the advantages offered by establishing a commercial rival to the BBC.
The result was the formation by these three like minded individuals of a company - CBC (Plays) Ltd. - with the objective of establishing an offshore radio station broadcasting to the UK.
CBC (Plays) Ltd obtained legal advice about the legitimacy of their plans (essential to encourage further financial investors) and, amazingly, secured permission from the Bank of England to transfer money out of Britain to a trust registered in Liechtenstein. (At that time there were strict currency restrictions in place in Britain, making it illegal to take more than £25 out of the country without official permission).
Oliver Smedley started working on what was known as Project Atlanta by creating a web of inter connected international based companies to facilitate the operation. The inter-connecting company structure was complex and, with the passage of over 50 years it is difficult to unravel completely, but what is known is:-
Project Atlanta Ltd

acquired the rights to sell airtime on Radio Atlanta from

CBC (Plays) Ltd.

In return for a lump sum payment of £48,000 and 36,000 (24%) of its shares

Project Atlanta Ltd

also undertook to pay monthly sums to cover

CBC (Plays) Ltd's

costs in maintaining and supplying the station and for the services of Allan Crawford as its Managing Director.

CBC (Plays) Ltd

obtained the rights to airtime from

Atlantic Services Anstalt

, In Liechtenstein.

CBC (Plays) Ltd

also undertook to pay the running costs of the station to

Atlantic Services Anstalt

.

Atlantic Services Anstalt paid the DJs via a British company - Hengown Ltd

(registered in Merit House, Dean Street, London, the same address as Radio Atlanta's offices).

Atlantic Services Anstalt

leased the radio ship from

Rajah Anstalt

in Liechtenstein.

Rajah Anstalt

chartered the vessel from

Rosebud Shipping Ltd

, in Panama.
Meanwhile other small investors were sought for the Project - initially there were 38 separate investors, including various businessmen, theatre associates of Kitty Black and Smedley's cousin, Austin Churton Fairman (later known on air as DJ Mike Raven), There were also some Trinity House pilots, notably Sandy Horsley, who would provide key advice on a safe anchorage location for the Project's ship. Shareholdings varied from anything between just 50 and 10,000 of the company's 150,000 £1 shares.
Some influential business men were investors in Project Atlanta including - C O Stanley (Chairman of the Pye Company who had been involved in lobbying for commercial radio for many years) - (see Almost There ! in the Why Go Offshore ? Gallery on the Ground Floor), William Harvey (Chairman of the British Printing Corporation), R J Deterling (grandson of the founder of Shell Oil) and CC Lomax a publisher of technical journals and a 'name' at Lloyds of London.
The Project's original plan was to use a former lightship as a base for their planned offshore station, but this was abandoned when the ship was discovered to be unseaworthy.
By early summer 1962 Allan Crawford became aware that the Scandinavian offshore stations (with the exception of Radio Syd) were about to close because of new legislation coming into effect at the beginning of August to outlaw them. Crawford opened negotiations with the American backers of Radio Nord to purchase that station's vessel, Magda Maria, complete and ready to broadcast, together with the entire contents of the fully equipped land-based studios in Stockholm. In addition Crawford was interested in taking on some of the Radio Nord technical staff and marine crew to continue running the Magda Maria and all its equipment.
This deal would provide Project Atlanta with a ready-made, fully equipped ship-borne radio station, meaning that the backers could dispense with the original plan to fit out their own ship - which, it had always been recognised from the Scandinavian and Dutch stations' experience, would be fraught with legal difficulties and technical problems.
However, even before Radio Nord closed rumours of the sale of the Magda Maria started to circulate in Sweden during the early part of June 1962 and the station's owners became very nervous that the authorities would attempt in some way to seize the vessel, possibly as she sailed through the narrow channel between Sweden and Denmark. These fears proved unfounded, however, because after lying at anchor for a few days following Radio Nord's closure, the Magda Maria successfully slipped away from Scandinavian waters sailing quietly through The Oresund and into the international waters of the North Sea.