Radio City - History
By Septem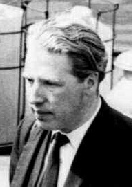 ber 1964 Screaming 'Lord' Sutch, having been offered a concert tour in Australia and New Zealand, was no longer interested in further involvement with the radio station – Radio Sutch - he had founded some four months earlier. His manager, Reg Calvert, who had been the driving force behind the project anyway, acquired Sutch's interest and took over complete responsibility for operating the station which was re-launched as Radio City.
During the first few weeks of September 1964 Reg Calvert's new station changed frequencies three times, but reception of the signal was far from satisfactory. So, to improve signal quality Calvert obtained and installed some ex-Navy surplus transmitting equipment and on 30th September 1964 Radio City programmes started again this time on 238m (1262kHz). The station was on the air for 12 hours a day from 7.00am-7.00pm and music policy differed slightly from Radio Sutch in that more pop and chart material was broadcast, bu

t always heavily promoting artists managed by Reg Calvert.
The station also achieved a greater degree of on-air reliability than its predecessor, with a pre-determined and advertised schedule of programmes throughout the day. The signal was of improved quality too thanks to the new transmitter and the station's broadcasts even managed to reach significant parts of London. Unfortunately, advertisers were still not attracted to Radio City as they were to the more successful Radio Caroline and the only way Calvert could find to generate income for the station was to broadcast taped American religious programmes such as "The Revival Hour", "The Voice of Prophecy" and "The Wings of Healing". The payments received for transmitting these programmes accounted for about 80% of the station's income at this time and enabled it to stay on the air despite the lack of more conventional commercial advertising.
In mid-December 1964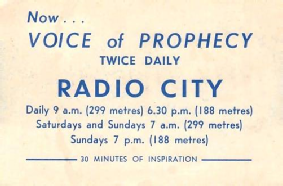 another ex-Navy transmitter was acquired by Radio City and music broadcasts were switched to 290m (1034kHz) (but announced as 299m), while the original transmitter was used to air the sponsored religious programmes on a separate frequency of 188m (1605kHz). In this way the station was able to broadcast the financially important sponsored religious programmes without interrupting the normal music output which appealed to most listeners.
By spring 1965 Radio City was fast becoming a significant rival in the battle for offshore radio audiences. Whilst not achieving the level of advertising income of either Radio Caroline or Radio London, it was nevertheless earning substantial amounts from the sponsored American religious programmes. Radio City claimed to be so successful financially that its owner Reg Calvert explored the possibility of opening a second fort-based service, using another of the abandoned Thames Estuary Forts - Knock John.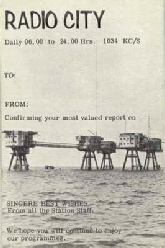 Equipment was landed on Knock John Fort by Radio City staff who proposed to start test broadcasts for a new station during the summer of 1965. Unfortunately for Radio City another potential offshore radio operator, Essex businessman Roy Bates, already had his sights set on the Knock John Fort and a bitter, sometimes violent, territorial dispute broke out between the two rival groups.
Reg Calvert also made an attempt to launch a second station in April 1965 when he tried to purchase an ex-supply boat from the Royal Navy. He planned to anchor this vessel in the Bristol Channel and use it as a base from which to beam radio (Radio City West) and possibly even television programmes (City TV), to the west of England, Wales and the south Midlands. However, the project did not materialise and with the loss of Knock John Fort to Roy Bates's group the idea of Radio City launching a second station faded for the time being.
In September 1965 Radio City, entered into negotiations with Radio Caroline about a possible merger. Reg Calvert was approached by the Project Atlanta side of Radio Caroline, through Major Oliver Smedley and Allan Crawford.
The Project Atlanta side of Radio Caroline (which was in financial difficulties) was looking for a new base for Caroline South, with a plan to move the Mi Amigo to a new anchorage and provide further coverage of Britain. Unknown to Reg Calvert the Project Atlanta team had already tried to claim Knock John Fort as their new base before being evicted by Roy Bates.