Radio Monique - History
Plans had existed in 1981 to put more than one station on the air from the radio ship Magda Maria, - Radio Paradijs and possibly two others - but the illegal seizure of the vessel by Dutch authorities had prevented these projects coming to fruition.
One of the proposed stations was to have been Radio Monique, with a programming format geared to promoting Dutch artists and with backing from some large record companies in Holland. Protracted legal argument between the owners of the Magda Maria and the Dutch authorities led to the backers of Radio Monique looking elsewhere for a base. In the autumn of 1984 they approached Ronan O'Rahilly to hire studio and transmitter facilities on the Ross Revenge, and this resulted in a contract with the Radio Caroline organisation allowing Radio Monique to provide a Dutch language service from the ship.
Radio Monique was backed by a number of Dutch and Belgian businessmen, prominent amongst whom was Luc van Driessche, a director of Flemish language Topic magazine, owned by the Heerema Company, which itself once had connections with offshore broadcasting through the REM Island project in 1964 for Radio Noordzee/TV Noordzee. A substantial financial input also came from the Canadian Lotto 6/49 organisation which had previously invested in the re-launch of Radio Caroline.
The ope

rating company behind the station was Music Media International (MMI) run by Fred Bolland (previously involved with Radio Delmare and the Dutch service of Radio Caroline in the 1970s and the Dutch sales outlet of Laser 558) and ex-Radio Veronica DJs Tony Berk and Willem van Kooten (Joost den Draayer). MMI operated quite legally in Holland selling syndicated radio programmes to legal, landbased stations in Belgium and Spain.
1984
After weeks of rumours the first definite indications on-air of the new station's arrival came on 15th December 1984,when the two Radio Caroline frequencies began carrying different programmes - Caroline on 576kHz and Dutch language test transmissions on 963kHz. The following morning Radio Monique tests began again and the station officially opened at 11.00am (12 noon in Europe) with a number of programmes were presented live from the ship.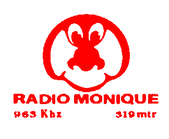 Radio Monique started earning revenue from its opening day with the transmission of two sponsored religious programmes - Johan Maasbach's programme (aired daily) and Radio Gemeenschap Bloemendaal, an organisation which had been established by the late Rev. Dominee Toornvliet (the 'Pirate Vicar'). Both these broadcasters had previously bought airtime on Dutch offshore stations during the 1970s.
On 31st December 1984 Radio Monique started including commercial spots during its regular programmes. There were also a large amount of record promotions during programmes, indicating that record companies backing Radio Monique had paid for such airplay.
Questions were asked in the Dutch Parliament following the opening of Radio Monique. Broadcasting Minister, Eelco Brinkman, stated that no direct action would be taken against the new station in view of the Court decision in the Radio Paradijs case declaring that the Dutch authorities had acted illegally in seizing the Magda Maria while she was in international waters. Nevertheless he promised to urge his British colleagues to watch for any signs of illegal tendering activities associated with the Ross Revenge.
1985
Repeated transmitter and generator breakdowns as well as storm damage to the aerial system caused both stations on the Ross Revenge to leave the air for various periods during December 1984 and January 1985. On 6th January 1985, in Force 10 gales, the Ross Revenge dragged her anchor for about two miles and transmissions had to be terminated while emergency services were alerted. During the early hours of the following morning the Ross Revenge was able to sail back to her normal anchorage position, accompanied by the Walton on the Naze lifeboat. Radio Monique wasn't able to resume programmes until 11th January 1985.
Radio Monique became commercially very successful with some large advertisers purchasing airtime during the summer of 1985. The station's programme format was also proving popular with listeners and it attracted a substantial audience in its target area. During this time Radio Monique also mounted a huge promotional campaign using banner towing aircraft flying above Dutch beaches and holiday resorts. The campaign was linked to a competition in which listeners had to read the airborne messages and post them off to the station's Spanish address where they were entered in a prize draw.