THE PEOPLE - 1
The success of Radio Hauraki was achieved through the efforts of a whole team of people, but there were four main drivers who saw the project through from inception to the reality of a radio station broadcasting from a ship at anchor in international waters. Additionally - and uniquely - the station was granted a licence to come ashore and broadcast legally from a land base thanks to thr foresight and hard work of these for people.
DAVID

GAPES
The son of a Wellington decorating contractor, David Gapes entered journalism in 1959 straight from sixth form college when he joined the Wellington Evening Post. He then briefly worked for Truth, before emigrating to Australia in 1962 where he became a general reporter on the Sydney Daily Mirror.
He returned to New Zealand in 1965 having learned of the success of offshore radio stations in Scandinavia and Britain and thought he could achieve similar success in challenging the New Zealand broadcasting system.
He worked again as a journalist for Truth and the Sunday News in Wellington as he began to formulate plans to start an offshore radio station to rival the established broadcaster in New Zealand and give listeners of his generation programming that they wanted to listen to, rather than what was on offer from the state broadcaster.
After devising and launching Radio Hauraki in 1966, then seeing it successfully obtain a land-based licence in 1970, David Gapes remained with the station throughout its early years as a land-based broadcaster.
However in 1977 he left Radio Hauraki following the acquisition of the station by a finance driven company and became manager of a rock group –Hello Sailor. He then went through a turbulent period in his life resulting from drug use.
David Gapes later re-entered the world of radio, briefly selling airtime for Radio New Zealand's 1ZM, then running the news service on 89FM in Auckland.
CHRIS P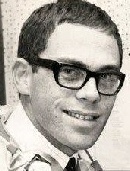 ARKINSON
Chris Parkinson was born in 1941 and started his radio career as a studio technician working for the Broadcasting Corporation of New Zealand (BCNZ). He trained himself to become an on-air announcer, but was told that his ability lay in the technical field and BCNZ could see no future in his voice. He proved them wrong by becoming one of the most highly sought after voice over announcers of his time.
In 1966, - along with David Gapes, Derek Lowe and Denis O'Callahan - Chris was a founding director of Radio Hauraki, and was able to use both his technical and announcing talents on the station.
From 1968 to 1970, Chris was an announcer and newsreader in Australia, on Sydney radio and television stations 2GB and TCN-9. Between 1975 and 1976 he was a news presenter on TV2 in Auckland.
He was operations manager for Radio Pacific from 1982 to 1988, managing director of Radio Pacific (Waikato) from 1988 to 1989., and a Radio Pacific director between 1986 and 1999. He was the corporate voice for TVNZ news and current affairs (1991–99), Sundance Channel (1999–2003), Solid Gold FM (1999–2005) and Radio Pacific (1982–2007).
Chris was awarded the Pater Award for "the golden voice of Australasia" in 1987. He also won nine New Zealand Radio Awards between 1982 and 1999.
Chris Parkinson died in Auckland on 27 April 2016.
DEREK

LOWE
Derek Lowe had worked for the NZBC before leaving the state broadcaster to form his own commercial production company. He had worked , together with another ex-NZBC colleague, Chris Parkinson, on plans to launch an offshore station before joining forces with David Gapes and Denis O'Callahan who were also planning a similar venture - Radio Hauraki.
Derek Lowe left Radio Hauraki a few years after it had become a legal, land-based station and he was unemployed for a few months, before becoming a taxi driver. In the early 1980s he joined the board of Radio Pacific (together with ex -Hauraki secretary Gordon Dryden), becoming Managing Director in 1982.
His role at Pacific Radio was to save the struggling talk format station and he achieved a turnaround in its fortunes within the first year –generating a profit by cutting operating costs and significantly increasing ratings. During this time he employed the on-air talents of his former Hauraki colleague and founder, Chris Parkinson.