The People Behind Radio 270
Don R

obinson
After completing National Service Don Robinson had a number of occupations including physical instructor, fishmonger, go-kart racing promoter, wrestler (becoming Empire light-heavyweight champion) and nightclub owner.
Together with his wife he established his own company - Robinson Promotions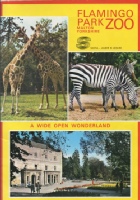 - to promote greyhound racing and wrestling matches. He also promoted pop music shows at The Spa in Bridlington and at many other venues in Yorkshire and north east England. Don was also a director of Flamingoland Zoo in Yorkshire and involved with Windsor Safari Park, Dudley Zoo, Blair Drummond Safari Park and the development of Durban and Canada Zoos.
In 1965 Don had become involved with the music recording business and it was during this period that he had the idea of launching a local commercial radio station to serve Yorkshire and North East England - based on the success of Radio Caroline and Radio London in the South East and North West of England - Radio 270 was Don's brainchild.
After Radio 270 closed in 1967 he began his own private businesses through Scarborough Zoo in the 1970's which was subsequently sold to Yorkshire Television, where he became Leisure Director.
In the 1980's Don Robinson formed Kunick Leisure with Sir Fred Pontin, which later acquired the London Dungeon and established the York Dungeon as well as overseeing development of waterparks and amusement parks. Kunick also acquired Allied Entertainments, promoter of the Live Aid concerts and Bell Fruit and Music Hire Group, at the time two of UK's largest slot machine manufacturers and operators. He also acquired Hull City Football Club in this period and under his management and
financial control the club progressed from the fourth division to within one goal of the then first division.
In the 1990's Kunick Leisure sold the London and York Dungeons to Vardon (now Merlin Entertainments) and Don Robinson developed private leisure operations in London and the newly opened markets of Eastern Europe. He was a also appointed a director of Mekong Leisure in Vietnam part of Indo China Asset Management
In the late 1990's he established Churchill's Britain at War Museum 'the world's first theme museum'.
Don Robinson is a former Vice 'President of Scarborough Cricket Festival and promoted Don Valley Stadium Floodlit cricket, and the Imran Kahn Cancer Appeal Cricket tournament. He is also a former vice president of the London Stock Exchange Cricket team.
Currently Robinson Leisure is involved in new leisure concepts based around historical themed leisure parks as well as an international adventure tourism company.
Leon

ard Dale
When he left school in 1930 Leonard Dale first worked on his father's farm at Gristhorpe. He later trained as an electrician and after World War 2 started to manufacture water pumps, welding equipment and generators. By the mid 1950s the family business - Dale Electrics - was exporting equipment all over the world.
A marine generating division of his company was established in 1965 and, when Radio 270's first technician, Peter Duncan, approached the company to install electrical generating equipment on the planned radio ship Leonard Dale not only became involved with the project but was invited to become its Chairman.
Leonard Dale died in February 1986.

Wilf Proudfoot
After leaving school Wilf Proudfoot had worked in an accountants office, before joining the RAF where he spent the War years as a technical training officer, serving for some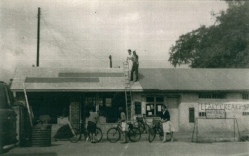 time in India.
After leaving the RAF in 1946 he used his gratuity to buy a small grocery shop on the outskirts of Scarborough - a business he quickly expanded into a supermarket chain.
His main interest outside of business was politics and in 1949 he stood for election to the local council, losing by just 21 votes. The following year he won a by-election in another Ward and continued to hold the seat for over five years. In 1959 he achieved a lifetime ambition when he was elected as MP for Cleveland and Wh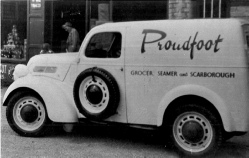 itby, a seat he held until 1964. In 1961 he introduced the Decimal Coinage Bill, which although not successfully enacted at the time ultimately led to the introduction of decimal currency in 1972.
His involvement in Radio 270 came when he approached a local advertising agency to buy airtime to advertise his supermarket chain. He was put in touch with Don Robinson, Leonard Dale and the other main investors in the project and they invited him to become its Company Secretary (and, later, Managing Director).
After Radio 270 had closed in August 1967 Wilf Proudfoot returned to Parliament in the 1970 Election as MP for Brighouse and Spenborough - a seat he held for four years. During this period in parliament he focused mainly on broadcasting issues.
After failing to be re-elected to parliament he started a new career as a hypnotist - first training in California then starting the Proudfoot School of Hypnosis and Hypnotherapy. He also chaired the British Council of Hypnotist Examiners.
Wilf Proudfoot died in July 2013.