KLIF, Dallas
Dallas radio station KLIF has a surprising connection with the history of offshore radio. Its owner, Gordon McLendon was credited with perfecting the Top 40 format for KLIF and he was also closely involved with the Swedish offshore station, Radio Nord and later with the British stations Radio London, Radio England and Britain Radio.
This article is a brief history of Gordon McLendon and station KLIF in Dallas.
Gordon McLendon
Gordon Bar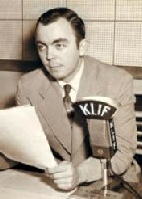 ton McLendon (June 8, 1921 – September 14, 1986) was a United States radio pioneer, nicknamed "the Maverick of Radio".
McLendon is widely credited with perfecting, during the 1950s and 1960s, the commercially successful Top 40 radio format (originally created by Todd Storz) which he introduced to his Dallas station, KLIF in the early 1950s.
He was also involved in European offshore radio broadcasting in both Scandinavia (Radio Nord) and Britain (Radio London, Radio England and Britain Radio).
In addition to his radio activities, he was active in circles of United States conservative business-political power from the 1960s until the time of his death in 1986.
Gordon McLendon is credited by most broadcast historians with having established the first mobile news units in American radio, the first traffic reports, the first jingles, the first all-news radio station, and the first "easy-listening"
He was also among the first broadcasters in the United States to editorialise news.
The McLendon family built a communications empire that included radio stations across the United States.
In addition to KLIF, McLendon owned KNUS–FM in Dallas, KOST in Los Angeles, WYNR (later WNUS) & WNUS-FM in Chicago, WWWW–FM in Detroit, KEEL in Shreveport, WAKY in Louisville, KABL in Oakland, KABL–FM in San Francisco, KILT in Houston, KTSA in San Antonio, and KELP in El Paso.
He introduced the all-news format to Southern California through XETRA in Tijuana, on the Mexican border.
McLendon was also one of the originators of the "beautiful music" format on his KABL in Oakland, California in 1959; and founder of the first all-news radio station (WNUS in Chicago) in the 1960s.
By 1979 the family had sold all of its broadcasting properties, including fourteen radio and two television stations, worth approximately $100 million.
By 1985 Forbes Magazine estimated Gordon McLendon's net worth at $200 million.
KLIF
Gordon McLendo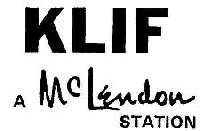 n and his father founded KLIF (The Mighty 1190) in Oak Cliff, Dallas, Texas in 1947, with a music and talk programme format.
In 1954 McLendon introduced the Top 40 format to the station and, as a result of this change, KLIF enjoyed dominance of the Dallas radio ratings in the 1950s and 1960s, achieving an 'over 50' market share - an unparalleled ratings success.
Gordon McLendon collected the names of local leaders in business and government working them into news on the station. He said there were only two things that radio could compete with television on: "music and news".
KLIF was based at Triangle Point Studios in Dallas from 1964 to 1980. The street-front building with large windows where pedestrians and shoppers could look into the studio and see the action of live broadcasts.
The station also broadcast live shows from different parts of Dallas and announcers often toured the city in the KLIF radio vehicles.
The McLendon family sold KLIF in 1971 to Fairchild Industries of Germantown, Maryland, for $10.5 million, then a record price for a radio station.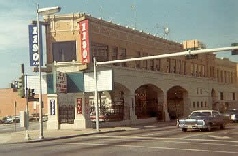 When FM radio took over Top 40 music during the late 1970s, KLIF lost its dominance in the Top 40 music market and later switched to a talk radio format.
One of the FM stations most instrumental in the downfall of KLIF was its former sister station KNUS (now KLUV), of which McLendon retained ownership after selling KLIF and revamped it as a rock-oriented Top 40 station.
In 1990 the KLIF call letters and talk format were moved to 570 AM and the frequency KLIF formerly occupied (1190 AM) now hosts competitor news station KFXR.