Britain Radio - History
A lavish press conference in London on 20th April 1966 announced the launch of yet another offshore radio project - the most ambitious so far, with two separate stations based on the same ship.
The new project planned to start broadcasts from off the Essex coast by the end of April, but in fact test transmissions for the two new stations - Radio England and Britain Radio - did not take place until 3rd May 1966.
Although based on the same s

hip the twin stations were to be radically different from eachother and from any other offshore or landbased stations then on the air. Radio England, which planned to compete in the market area already covered by Radios Caroline, London and City, was to be a brash, all-American Top 40 format station, while Britain Radio was to present easy listening music aimed at the same audience as Radio 390.
Behind this

ambitious project were some of the original backers of Radio London - Don Pierson, Bill Vick and Tom Danaher. They had b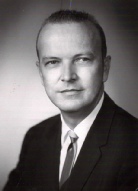 roken away from Radio London early in 1965 after fundamental boardroom differences over that station's programming style and format. Money was to be no object!
A management company was formed for the new project - Pier Vick Ltd - Bill Vick became Managing Director of the company, with Don Pierson acting as Project Overseer and another American, Jack Curtis fulfilled the dual role of Project Co-ordinator and also General Manager of the easy listening station, Britain Radio. Cinema advertising agents Pearl and Dean also held an interest in the twin station venture as well as being responsible, through a subsidiary company, for the sale o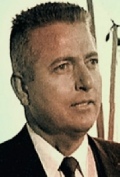 f airtime. Howver, the company failed to proactively sell airtime which quickly led to financial problems for both Radio England and Britain Radio.
At the beginning of 1966 the project's ship Olga Patricia (later re-named Laissez Faire) was taken from the Panama Canal Zone to Biscayne Bay, Miami where she was fitted out for her new role in great secrecy. Installation of equipment on the radio ship was carried out by Continental Electronics from Dallas and completed by March 1966.
However, shortly after the Laissez Faire sailed from Miami the aerial mast collapsed and there then followed a series of delays and a display of gross inefficiency in dealing with problem. The Laissez Faire spent two weeks in Lisbon then Continental Electronics then suggested that the ship should sail to her proposed anchorage off the British coast and the work would be carried out at sea. The vessel sailed for her anchorage off Harwich and lay silently at anchor while Continental Electronics arranged to bring equipment from Dallas and from West Germany to rebuild the aerial system.
Test broadcasts eventually started from the ship on 3rd May. To begin with Britain Radio broadcast on 227m (1320kHz) although the potential transmitter power of 55Kw was not achieved due to technical problems. For most of May 1966 test broadcasts continued sporadically with regular interruptions and breakdowns while the equipment was adjusted and modified.
On 3rd June 1966 the Italian Government complained that the transmissions from Radio England were interfering with its Roma 2 station and as a result Radio England swapped frequencies with its sister station, Britain Radio, while transmitter power was reduced significantly during the evenings. The Italian Government also complained to Panama about interference from the two stations on board the Laissez Faire. As a result the Laissez Faire's registration was withdrawn and the vessel remained a stateless ship for two months until she was re-registered in Honduras.
Regular programmes from Britain Radio eventually started on 16th June 1966 on a wavelength of 355m (845kHz - later adjusted to 854kHz).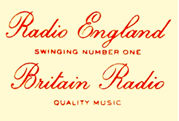 In contrast to Radio England its sister station, Britain Radio catered for a quieter, older audience. This station also brought with it a set of custom-made jingles (based on PAMS "Smart Set" series) to help create its identity in the market place - "Hallmark of Quality - Britain Radio". Fortunately for Britain Radio these were not pirated by rival stations, as had happened with Radio England's original jingle package.
Although it was supposedly catering for the same audience sector as Radio 390, Britain Radio adopted an entirely different programming style. Instead of the 15 and 30 minute segments specialist music, which Radio 390 had so successfully tailored for its audience, Britain Radio adopted the same 'horizontal' format as its pop rivals using three or four hour long programmes, but with the DJ's playing easy listening music instead of Top 40 pop. Unfortunately audiences and advertisers were not won over - the July 1966 NOP survey showed Britain Radio's listenership as only 718,000 compared with Radio 390's 2,633,000.
Britain Radio carried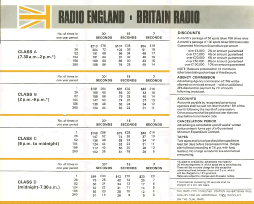 the first political advertisement broadcast on a British offshore radio station on 29th September 1966, when the Ratepayer's candidate in a by-election for Harwich Town Council - bought airtime on the station. He was able to do this because the Representation of the People Act 1947, which requires that broadcasters give equal airtime to all candidates standing in an election, did not apply to Britain Radio as it operated from outside British jurisdiction. As a matter of record Mr. McLaren won the by-election by 260 votes, but it is impossible to accurately attribute his success solely to the advertisement on Britain Radio.
Both stations on board the Laissez Faire made use of an automated Carousel unit - the first to be used in Europe.
This unit, similar in principle to a juke box, but working with tape cartridges instead of discs, could be use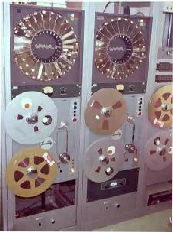 d to provide either non-stop music automatically (as Radio England did at weekends with its "Golden Oldies" programme or Britain Radio did on its overnight service) or be incorporated into DJ controlled programmes. The equipment also stored commercials and station identification jingles on cartridges and had the ability, in response to a cue tone, to activate programmes recorded on reel to reel tapes. When each piece of music on the reel to reel tape ended another cue tone activated the Carousel unit to insert further commercials or jingles automatically. (See I WAS THERE in the Interactive Zone on the right).