The Danish offshore station, Radio Mercur, had been broadcasting programmes aimed at listeners in southern Sweden under the call sign Skanes Radio Mercur, since 1958.
1962
In January 1962 the owner of Skanes Radio Mercur decided to sell his interest in the station to Sales Manager, Britt Wadner.
Britt Wadner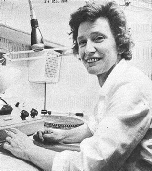 , a former 1940's Swedish beauty queen, had recorded some commercials for the station in its early days and in January 1959 she joined Skanes Radio Mercur as Sales Manager, with responsibility for obtaining new advertising contracts. From this small beginning Britt Wadner was to become a major figure in the history of Scandinavian offshore radio.
Mrs. Wadner intended to keep the Swedish language programmes on the air, but wanted to break away from hiring airtime from Radio Mercur and planned to start her own full time Swedish language offshore radio station directed at Malmo in southern Sweden.
At the beginning of March 1962 the former Radio Mercur vessel Cheeta (which had been damaged in a storm at sea) was put up for sale by the salvage company. The vessel was purchased by Britt Wadner who returned the radio ship to sea, anchoring outside Swedish territorial limits off Malmo.
On 6th March 1962 at 6.00pm the first transmissions from the new Swedish offshore station - Radio Syd - were heard, broadcasting popular music programmes 21 hours a day.
Following a recommendation by a special committee of the Nordic Council in February 1962 a concerted approach was agreed by four Scandinavian governments to deal with the 'problem' of offshore radio stations. The four governments in question - Denmark, Sweden, Norway and Finland - started to progress through their respective parliaments domestic legislation making it an offence for their nationals to supply, broadcast from, advertise on or assist an offshore station in any way.
With each country now having the relevant legislation in place agreement was reached at a meeting of ministers representing the four governments in Stockholm that all anti-offs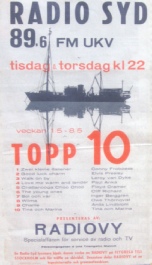 hore broadcasting laws would come into effect at midnight on 31st July 1962.
When the other Scandinavian offshore stations ceased transmissions as the new legislation came into force Radio Syd decided to defy the laws and continue broadcasting to southern Sweden from a position outside territorial waters off Malmo.
Following Mrs. Wadner's announcement that she would defy the new law and keep Radio Syd on the air after midnight on 31st July 1962, the Swedish Government tried to interfere with the station's broadcasts by changing the FM frequency of the much more powerful state station, Radio Halsinborg. However, two days before the change was due to take place Radio Syd itself moved frequency from 89.62mHz to 88.3mHz and so avoided a potential jamming situation.
Radio Syd c

ontinued to grow in popularity and, despite the station being outlawed after 1st August 1962 a Club Radio Syd was formed for listeners, achieving an almost immediate membership of over 10,000. In October 1962 Mrs. Wadner was prosecuted under the provisions of the anti-offshore broadcasting laws and fined for continuing with Radio Syd's broadcasts, but despite her prosecution the station remained on the air.
1963
On 9th January 1963 Cheeta became stuck in pack ice for five hours and the cr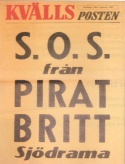 ew was forced to cut the anchor chain and break the ice around the ship before they succeeded in moving the vessel slowly toward Limhamn harbour using her own engine. A crowd of Radio Syd supporters assembled on the quayside to see the ship arriving in port for repairs.
In May 1963 eleven advertisers were fined for purchasing air time on Radio Syd and in October Mrs Wadner herself again appeared in court accused of allowing Radio Syd to continue broadcasting.
1964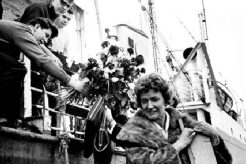 In March 1964 - and again in August - Britt Wadner appeared before the courts and on the latter occasion was sentenced to one month in jail. This resulted in a big public demonstration in support of Radio Syd.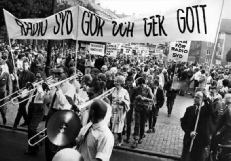 Under Swedish law a prisoner is entitled to carry on their profession while in jail, and Mrs Wadner was able to continue running the station from her cell in the Hinseberg prison!
The station's original vessel Cheeta went adrift during a storm on 17th September 1964 and ran aground in Vikhoeg near Malmo. The ship was towed into Malmo harbour for repairs but sank during the evening of 7th October 1964.
Radio Syd bro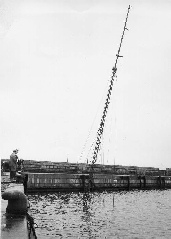 ught into use another vessel, Cheeta 2 which had been purchased from the former owners of the Danish station Radio Mercur. Radio Syd was therefore able to return to the air within two weeks of the Cheeta sinking.