© 2014-2022 Offshore Radio Museum

Roland C Pearson - 'Buster'
One of the m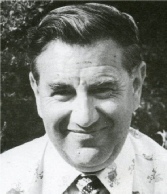 ost prominent supporters of offshore radio in Britain died on 23rd December 1985. Roland C Pearson - 'Buster' to all who knew him - was an outstanding friend to the offshore stations and those who worked on them.
Buster Pearson suffered all his life from haemophilia and was largely confined to a wheelchair. He first acquired an interest in radio during the Second World War when he listened to the American Forces Network because its programmes were so radically different from the BBC output. His interest in radio led to him monitoring and recording, in great detail, air traffic control broadcasts and from this information he plotted the location and destinations of aircraft flying in the vicinity of his home.
This in turn led to him being one of the first people in Britain to tune to the output of Dutch offshore station Radio Veronica in 1960 and in particular its English language outlet, CNBC. From this beginning grew a lifelong association with all the offshore radio stations off the British and European coast.
In the late 1960s he started to produce news sheets for the Southend branch of the Free Radio Association and this ultimately led to the launch of his own magazine Monitor which ran to 38 issues over eighteen years. The magazine contained incredibly detailed logs of all that happened on board the various radio ships and the stations which broadcast from them and Buster was known to be an almost continuous listener to their output. This was so much the case that, on many occasions in times of distress, those on board the radio ships could confidently pass on messages in the knowledge that Buster Pearson was listening and he knew who to contact for assistance.
Buster Pearson was a well respected and much liked person who, although he never actually worked for an offshore radio station, did more than most to assist and support their operation. His funeral in January 1986 was attended by many offshore DJs and personalities including Radio Caroline's founder, Ronan O'Rahilly.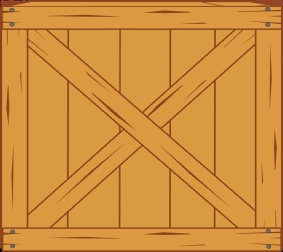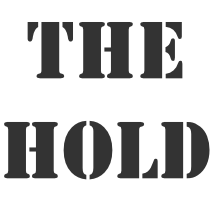 HOLD Noun - cavity in a ship below deck where cargo is stowed. Also the area used to house transmitters on many radio ships.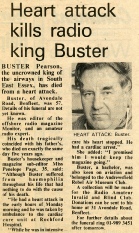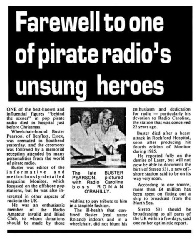 Southend Evening Echo
27th December 1985
Click to enlarge
Ipswich Evening Star 4th January 1986
Click to enlarge