Former Radio Caroline South and Radio Veronica DJ, 'The Admiral' Robbie Dale, has died
DATELINE 1st September 2021
Legenda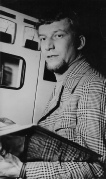 ry Caroline South and Radio Veronica DJ 'The Admiral' Robbie Dale has died.
Robbie (Robinson) Dale was born in Littleborough, Lancashire, on 21st April 1940. He worked as an antiques dealer, press agent, salesman, bellboy and served in the Army, before becoming a disco DJ in London, where he was spotted by Radio Caroline DJ Gerry Duncan.
At Gerry's suggestion Robbie successfully auditioned for Radio Caroline and joined Caroline South in April 1966. He presented the evening Caroline Club Request Show, which became known as Robbie Dale's Diary.
Robbie founded the "Beat Fleet" - an organisation which doubled as a fan club and a free radio supporters' association and appointed himself "The Admiral".
When the Marine Etc Broadcasting (Offences) Act came into force in August 1967 Robbie chose to defy the Act and stay with Radio Caroline. He famously co-presented (with Johnnie Walker) the first hours of Caroline continuing into a new era.
He was joint Programme Controller and Senior DJ for the South ship with Johnnie Walker and presented the morning show until illness forced him to leave in January 1968, although he continued to work for the station on shore.
After Radio Caroline was closed in March 1968 he joined Dutch offshore station, Radio Veronica, and later moved to Hilversum (TROS) radio and TV.
He returned to the UK in 1973 and ran an office-cleaning company and was involved in a failed bid for the Belfast ILR commercial radio franchise. Robbie later moved to Dublin and operated the very successful land-based pirate Sunshine Radio until Irish Government legislation closed it at the end of 1988.
He then moved to Lanzarote in the Canary Islands with his wife Stella, where they bought and managed a holiday complex.
Robbie died on 1st September 2021.
Additional information courtesy Pirate Radio Hall of Fame