Radio Mi Amigo DJ Peter van Dam has died
DATELINE 6th January 2018
Peter van D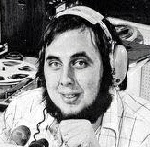 am - described as the great godfather of Flemish pop radio, has died at the age of 65.
Best remembered for his programmes on Radio Mi Amigo, Peter also worked on other offshore stations - Radio 199, Radio Caroline and Radio Atlantis. After offshore radio Peter worked on many land-based radio stations including TROS, AVRO, KRO, Radio 10 Gold, Hilversum 3, VTM, MaevaFM, Radio Contact, Radio 192 and Radio Flandria (where he was launch Programme Director).
Colleague Eric Hofman paid tribute to Peter and his contribution to Flemish radio -
"The first time we met was in Vilvoorde when we became colleagues.
He was a great guy, with a huge personality, both in the studio and outside.
A man with a phenomenal sense of humour, a lightning-fast thinker, a genius radio maker and top disc-jockey.
The only Belgian who became a DJ at Hilversum 3 in prime time and the only Belgian to present the Pinkpop Festival - a whole honour.
The name Peter van Dam remains inextricably linked to the golden age of radio which he presented in his inimitable, unique style.
Peter is synonymous with Radio Atlantis, Caroline, Hilversum 3, but primarily Radio Mi Amigo, where he first broadcast live on board the MV Mi Amigo and later recorded programmes in Spain. Greece also became acquainted with his enormous radio talent and experience, where he helped to promote Karpathos FM from the bottom to the top of the ratings.
For me Peter van Dam is the best Belgian deejay ever.
We were colleagues on radio and television, but also friends. Peter was rock ' n roll, pure and uncut.
The passing of Peter van Dam is for us, as friends, a loss and Flanders has lost a radio legend the like of which will never know again.
We're going to miss you terribly, Peter, but we'll never forget you. It was an honour to have known you.
Big hug, big man, big voice."