Carl Conway
DATELINE Dover 14th February 2017
Carl Conw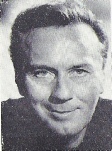 ay, one of the first voices heard on Radio Caroline when the station launched in March 1964, has died at the age of 95.
Carl Conway was born in Ramsgate, Kent in February 1922 and. after finishing school, he turned to acting, working in local reparatory theatres.
He also appeared in various television plays and films, as well as many commercials. His film appearances included A King in New York, The Great Van Robbery, Idle on Parade, Nudist Paradise and The Safecracker. Carl also featured in two episodes of the Doctor Who television series.
He joined Radio Caroline when the station was launched in March 1964, and was mainly heard on commercials and interviews recorded on land.
Carl continued acting and voice-over work for documentaries after leaving Radio Caroline before the Marine etc Broadcasting (Offences) Act came into force in August 1967.
In 1967 he hosted the BBC Light Programme series 'Swingalong'.
During the 1980s Carl presented a programme of big band music on Invicta Radio, an independent local radio station in in Kent.
In recent years Carl organised film shows in care homes and community centres.
Carl died on 10th February 2017, four days after his 95th birthday, in a nursing home in Dover, Kent.
Additional information courtesy The Pirate Radio Hall of Fame