Plan to take former Radio Veronica ship back to sea
DATELINE The Netherlands 28th February 2019
Recently, a fou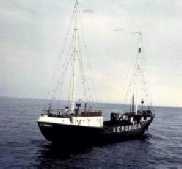 ndation called 'Friends of the Veronica Ship' was established with the aim of bringing back to sea the former radioship of this station in the 'year of 100 years of radio' and 60 years after the founding and 45 years after the closure of the offshore Radio Veronica. This is the Norderney and it is the intention for a period of one month, August, to return the ship to its old anchor position, 3 miles from the coast of Scheveningen.
In August 2019, it is planned to start again from the ship to provide programmes for the benefit of all generations of artists, listeners and employees. After this, this era can be closed forever.
The owner of the radio vessel has given permission and agreed to cooperate in order to make the plan a reality. The theme will be: 'Old meets new'. After all, it is still the only radio ship from that time that is still in good condition, so that the whole can become possible. It can be clearly said that we are dealing with a piece of cultural heritage.
Many of those days are no longer among us, but many are still alive. The start, then of Radio Veronica, was the beginning of radio from the sea off the Dutch coast and also the beginning of commercial radio, as we still know it today. It seems unique to us to relive the time of that time once more.
The project will take place provided there is cooperation from various angles. Think of the Ministry WVC, formerly CRM; companies; institutions; private donations and cooperation from existing broadcasting organizations.
Of course there is a considerable cost tag behind this project. The ship must be made seaworthy in advance and all applicable rules for anchoring a ship off the coast must be implemented. If sufficient financial resources are available, the ship will be put out to tender by the 'Friends of the Veronica Ship' foundation after the planned project has been completed and will then be made available to the RockArt Pop Museum (Jaap Schut), which is located in Hoek van Holland.
Any financial resources that may be left over, after the project has or has not taken place, will be donated to KIKA, (Children Cancer-free).
The board of the Friends of the Veronica Ship Foundation.
www.stichtinghetveronicaschip.nl
info@stichtinghetveronicaschip.nl
06-26819093
Donations by supporters and fans of Veronica can be made to the account of the foundation, the data can be found on the above website.
(Thanks to Hans Knot for this information)