Former 80s Caroline and Laser Hot Hits Engineer and DJ, Mike Watts, has died
DATELINE Brighton 5th July 2021
Former R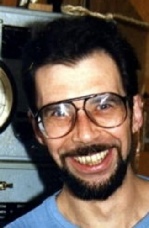 adio Caroline and Laser Hot Hits engineer and DJ, Mike Watts has died.
Mike was an engineer on Radio Caroline from 1985 to 1989 although his offshore career goes back much further.
In 1965 he broadcast on Radio City as 'The Castaway'. (at the time he was still at school, but took a boat from Whitstable beach and got stranded on Shivering Sands Fort for three days due to bad weather). As a result he was expelled from school and ended up doing the rest of his education on 'day release' while working, mainly in recording studios.
Mike was assistant to the Technical Director at Olympic Studios in Barnes, London, then he was employed at Maximum Sound Studio, recording bluebeat and ska. He worked for Tannoy, and helped build and run Chalk Farm Studios, again recording a lot of the reggae chart hits of the early seventies.
He was also involved in landbased pirate radio, starting a London AM station called Radio Free Caroline, as well as many early London FM pirates.
He joined Radio Caroline on the Ross Revenge as an engineer in 1985 and was occasionally also heard on air - the first time in the early hours of Boxing Day 1986. On 11th January 1987 he presented a blues programme on Caroline Overdrive.
Following his time with Caroline he worked in studio and transmitter installation for Alice Soundtech and Virgin Radio, and operated his own engineering consultancy firm.
On the radio transmission front he was involved with the early DAB experimental broadcasts and set up a new set of studios for Radio Reverb, the local community station in Brighton.
Mike had suffered from spells of ill health and died on 4th July 2021 , aged 71.
Additional information courtesy Pirate Radio Hall of Fame