Radio 355 - History
Shortly before the owners of Britain Radio and Radio England, Pier Vick Ltd., went into v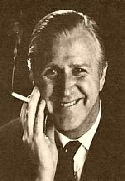 oluntary liquidation in March 1967, Britain Radio's Managing Director, Ted Allbeury and associate John Withers had formed Carstead Advertising Ltd. They successfully negotiated with the Receiver to take over operation of the two radio stations on the Laissez Faire, which by then was in Holland undergoing repairs to her aerial mast after sustaining damage during a storm off the Essex coast. Carstead Advertising was to pay all profits from the two stations to a new company, Laissez Faire Ltd., which had been formed by new American backers.
After repair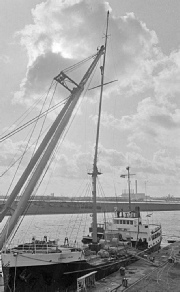 s had been completed to the Laissez Faire the ship sailed back to the British coast and Carstead Advertising announced plans to re-launch Britain Radio as Radio 355, with a format based on the successful Radio 390 style, aiming at a largely housewife audience. Radio Dolfijn (also based on the Laissez Faire) was to be renamed Radio 227 and continue broadcasting to a Dutch audience
However, the format change became a cause of dissent amongst the station's staff. A number of ex-Radio 390 announcers, went out to the Laissez Faire to help introduce the new format, but this did not meet with enthusiasm from those former Britain Radio announcers who had rejoined the radio ship.
After a few weeks of operating the Radio 390 style of programming format Ted Allbeury realised that it was not as successful as he had hoped and his co-director, John Withers, arranged for his b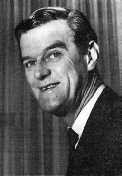 rother, Tony Windsor (who had recently left Radio London) to join Radio 355 as Programme Director with a remit to revamp the station. Tony Windsor quickly decided that the format would have to change back to the three or four hour 'horizontal' programming as previously adopted on Britain Radio.
This change in programming style worked and, despite the station's initial difficulties and its relatively short life-span, estimates in mid-1967 showed that Radio 355 had built an audience in the region of 2,250,000 (compared with Britain Radio's 718,000 in the NOP Survey twelve months earlier). However, the station still found difficulty in attracting substantial amounts of advertising and relied heavily on sponsored American religious programmes for much of its income.
On 3rd July 1967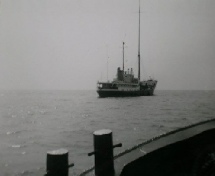 , a distress call was received from the Laissez Faire saying that a man on board had assaulted the Captain and was threatening murder. The incident had occurred following a visit to the Laissez Faire by guitarist Jose Felicano, who took part in a one hour live broadcast on Radio 355 that afternoon. After the broadcast one of the crew members from the tender boarded the radio ship and attacked the Captain, Colin Lukenhurst. He subsequently held the Captain and Programme Director, Tony Windsor, captive for 16 hours, threatening them with a knife.
Essex Police decided that they had no jurisdiction to act in response to the distress call because the incident had taken place on a Honduran-registered vessel anchored in international waters. Consequently they instructed the lifeboat service not to launch and referred the whole problem to the Royal Navy. The Navy in turn referred the matter to the Ministry of Defence in London who asked Coastguards to keep them informed of the situation as it developed. Out at sea the Captain told all his crew to lock themselves in their cabins overnight and the following day a tender set out with a boarding party and removed two Dutch crewmen from the radio ship.
The Marine etc. Broadcasting (Offences) Act received the Royal Assent on 14th July 1967 and Postmaster General Edward Short announced that its provisions would come into effect one month later, on 15th August 1967.
Ted Allbeury, announced that Radio 355 (and Radio 227) would be closing before the Marine etc. Broadcasting (Offences) Act came into effect - efforts to obtain foreign advertising for the two stations had proved unsuccessful despite Carstead Advertising having opened an office in Amsterdam to enable the twin stations to continue broadcasting after the new British legislation became law.
Additionally Ted Allbeury was 'warned' that he was under surveillance by the authorities and that, as a British citizen, he should not contemplate operating the stations from ab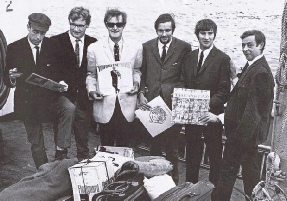 road while at the same time expect to slip in and out of the country without being stopped once the Marine etc. Broadcasting (Offences) Act was in force.
On 2nd August 1967 it was announced that Radio 355 would be closing at midnight on 5th August 1967. The station's final two hours were hosted by Programme Director Tony Windsor and all DJs who were on board the Laissez Faire at the time also took part. Managing Director Ted Allbeury made a closing speech pointing out to listeners the restrictions on personal liberty and freedom contained in the Marine etc. Broadcasting (Offences) Act. This final programme actually over-ran and Radio 355 eventually closed at 21 minutes past midnight on 6th August 1967.
Both stations operated by Carstead Advertising had closed before the effective date of the Marine etc. Broadcasting (Offences) Act because insurance for the Laissez Faire was due for renewal and it was not considered worthwhile extending that cover for less than two weeks.