KING Radio - History
Following the demise of Radio Invicta two of Tom Pepper's previous partners, Charles Evans and John Thompson, together with DJ Mike Raven (who had had earlier dealings with Radio Atlanta and Radio

Invicta) and a group of other Kent businessmen decided in February 1965 to take over what was left of the station. Although John Thompson and others quite quickly withdrew from the new project Mike Raven decided to go ahead with the plan and, together with two colleagues, took some studio equipment out to Red Sands Fort in March 1965.
The Fort's transmitter was put back into working order and test transmissions started for the new station - KING Radio. For some reason which has never satisfactorily been explained these taped test transmission programmes asking for listener's reception reports erroneously referred to the station as being based on the Nore Fort, which had been demolished in 1958. After about two weeks of testing the equipment and producing a satisfactory signal regular programmes from KING Radio started on 24th March 1965.
The format w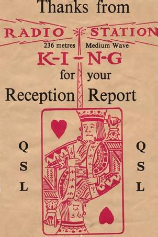 as deliberately designed to be different from all other offshore stations then on the air, keeping away from a Top 40 format and focusing on easy listening music. DJs often read short poems or greeting card verses between records and for a time the station promoted itself with the slogan "Wonderful Words - Wonderful Artists".
After a few weeks of broadcasting long-term financial backing for KING Radio was sought, without much success. Eventually Charles Evans and Folkestone camera dealer Maurice Gothing decided to continue financing the embryo KING Radio hoping that a substantial backer could be attracted to the easy listening format station.
KING Radio's signal reached the south east coast, part of East Anglia and even outer London. But, unfortunately the station's format never really caught the imagination of listeners, nor did it attract the support of many advertisers, achieving audience figures of only about 20,000 at peak listening times.
After KING Radio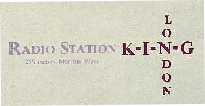 had been on the air for a few months it became apparent to financial backers that in its existing state the station would never be commercially successful. One of these backers, David Lye, was however still convinced that a non-Top 40 format station could be successful if it were properly structured and he approached a business colleague, public relations consultant Ted Allbeury, to see if he could produce any ideas for improving the station's image and ratings.
A report from Allbeury Coombes and Partners was subsequently presented to the owners of KING Radio suggesting the introduction of a radically different format for the ailing station, one which relied totally on what they referred to as 'sweet music' presented as an audio magazine targeted at a specific daytime audience sector - housewives.
As well as a general format the actual style of presentation was also considered by Allbeury's consultancy and it was recommended that the brash, psuedo-American approach adopted at the time by other offshore stations should be avoided by the proposed easy listening station and replaced by a more relaxed approach.
The owners of KING Radio agreed to adopt these recommendations, but it quickly became obvious that new capital would have to be injected into the station before the plans could be implemented. The business plan prepared by Allbeury Coombes and Partners was used to raise new financial backing and a new company, Estuary Radio Ltd., was formed to operate the revamped station.
Much of the new capital was used to buy out the remaining owners of KING Radio and to purchase new technical equipment in line with the objective of substantially increasing the station's coverage area. A new transmitter and aerial mast were constructed on Red Sands Fort during the summer of 1965.
Meanwhile KING Radio continued to broadcast while these improvement works were going on, but that station finally closed on 22nd September 1965. Its transmitter did, however, remain on the air for a further few days broadcasting a taped announcement asking listeners to re-tune to the new station - Radio 390.