Radio 819 - History
On the Ross Revenge immediate efforts in late 1987 had been put into returning the 558kHz transmitter to the air after the 300' aerial mast collapsed. The Radio Caroline organisation was also anxious to reinstate the 819kHz transmitter, but this could not be achieved from the temporary 'T' aerial which had been constructed on the Ross Revenge.
A new mast ha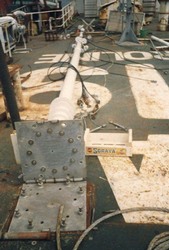 d to be obtained to facilitate the higher frequency transmissions and Caroline's management thought it had found the answer with a revolutionary new carbon fibre mast from Canada, known as a 'Valcon' aerial. This aerial was claimed by its manufacturers to produce a suitable medium wave signal from a much shorter length of mast than a conventional arrangement and therefore did not need to be guyed.
The new Valcon mast was erected on the Ross Revenge in mid-May 1988. However, almost as soon as it had been erected the mast cracked at its base and it proved necessary, after all, to attach guy wires to hold it in place.
The installation of the new aerial mast was in preparation for the launch of a Dutch language service on 819kHz. In readiness for this new service some Dutch DJs arrived on board the Ross Revenge during April 1988 and presented a few live programmes, in English, on Caroline 558.
From late evening on 21st May 1988 Caroline 558 programmes were simulcast on 819kHz as test transmissions and this arrangement continued for three days, with a three day break, resuming again on 28th May. By 30th May 1988 everything seemed ready for the new service and at 10.00am a separate Dutch language programme began on 819kHz with some live shows and some recorded material announcing that it was a test transmission for a new station, - Radio 819. Listeners were asked to send reception reports to the address in Spain formerly used by Radio Mi Amigo and Radio Monique.
The Dutch language tests continued throughout 30th May 1988 until shortly before 8.00pm and resumed again the following morning, but then ended abruptly at 9.15am. The carbon fibre Valcon mast had melted, and split in half with the top section crashing to the deck of the Ross Revenge. Attempts were made to rig up a temporary system using a 'T' aerial strung from the remaining half of the Valcon mast to the 558 aerial mast, but this caught fire within minutes of the transmitter being switched on. A low power test broadcast was made for a few seconds at a time on 8th June 1988, but it proved impossible to tune the 'T' antenna to 819 Khz. With the Valcon mast and the temporary 'T' antenna having both failed, arrangements had to be made to obtain a more conventional mast structure so that Radio 819 could return to the air
A number of lattice-work mast sections were acquired and, in a series of clandestine tendering trips, were transported out to the Ross Revenge. The original plan was to build a single 160' tower, but this was later amended to a two tower construction with the aerial array strung between them. Also the first 40' of each tower was now to be of dual construction for added stability and, as a consequence, further mast sections had to be acquired and secretly shipped out to the Ross Revenge.
This all contributed to the delay in actually starting construction work, much to the annoyance of the Dutch organisation behind Radio 819 who, having hired the airtime and technical facilities on board the Ross Revenge, wanted to put their programmes back on the air quickly. Equally from Radio Caroline's point of view the delay was frustrating because it was vital to have the Dutch station broadcasting as the hire of airtime and associated tendering arrangements were financially lucrative to the organisation.
This double pressure led to a dramatic change of schedules on 9th July 1988 when Caroline 558 gave up its frequency during the daytime to allow the Dutch language station to broadcast again (as Radio 558). An arrangement which continued throughout the summer of 1988.
Then, during the morning of 22nd October 1988 tuning tones were heard on 819kHz.. Radio 558 itself did not come on the air until shortly before 2.00pm that day and when it did the programmes were relayed in parallel on both 558kHz and 819kHz. An announcement was then made that, after three months on its temporary frequency, Radio 558 had finally become Radio 819 once again.
From midday on 5th November 1988 Radio 819 was heard only on 819kHz, while Radio Caroline was able to resume separate 24 hour programming on 558kHz. The Dutch station's broadcasting hours were extended from 17th December 1988 when Radio 819 programmed overnight on Saturdays and Sundays after 'Viewpoint' religious programmes had finished.