Saturday 12th August 2017
7.30pm
Spa Pavillion, Felixstowe
The Music from the Boats that Rocked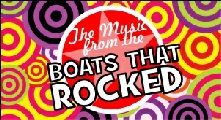 Star Offshore Radio DJ Tom Edwards presents an evening of music from the Golden Era of Radio .
Tom has a treasure trove of tales and stories. He was on Radio City in the Thames Estuary in 1966, being on board when the Shivering Sands Fort was 'invaded' over a transmitter dispute and at the time of the shooting dead of Radio City boss – Reg Calvert, in the same dispute.
Many believe that it was this lawlessness amongst the 'pirates' which did more than anything to hasten the 1967 Marine Offences Act after which the offshore stations became illegal.
Tom later joined Radio Caroline South off the coast of Frinton-on-Sea where he worked with the likes of Tommy Vance, Tony Blackburn, Robbie Dale and Johnnie Walker.
Like many other pirate DJ's he has also had spells on Radio 1 and 2 as they sought to recapture the success of the Pirates in the 1970's and 80's.
A multitude of 1960s/70s performers - including THE HONEYCOMBS, the legendary singer TONY BURROWS (Famous for his work with The Ivy League, The Flower Pot Men, White Plains, The Pipkins, Edison Lighthouse, The First Class, Brotherhood of Man) ... and special surprise guests - perform an evening of music from the Golden Era of pirate radio.
A unique mix of chart hits, turntable hits, jingles and especially memories from Radio Caroline and Radio London have all been put together to commemorate 50 years since the Marine Offences Act outlawed and eventually closed down the offshore radio stations. There will also be tributes to the many legendary DJ's who braved the sea as well as the Navy to create a whole new pop music sound: Tony Blackburn, Ed Stewart. Kenny Everett, Dave Cash and John Peel, creator of The Perfumed Garden, to name but a few.
A fun night, with prizes, nostalgia and memory-jerking music. Get ready for 'We Love the Pirate Stations', 'Caroline', and an incredible playlist of your favourite songs that were played on the pirate stations. A unique, one-off show, never done before - and unlikely ever to be performed again!
Tickets £25 Adults and £23 Children/Concessions.