© 2014-2017 Offshore Radio Museum

Friday 11th August 2017
7.30pm
Mercury Theatre, Colchester
The story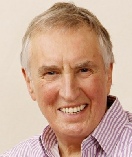 of Pirate Radio and the Summer of Love 1967
Join one of the only Offshore Radio DJ's still on our airwaves for a fascinating look at one of the cultural turning-points in Britain's history as we approach the 50th anniversary of the Summer of Love. Johnnie is one of our best-known and loved DJ's, but at the start of his career in the sixties he was at the heart of the off-shore pirate radio phenomenon.
Pirate Radio was launched at a time when there was no outlet to listen to popular music other than the BBC Light Programme or Radio Luxembourg. It was these stations and DJ's who were as much a part of Britain's rock and pop music revolution as the musicians themselves.
1967 marked the height of the cultural revolution that was Swinging Sixties. Britain led the world in fashion, art and ground breaking music. Twiggy became one of the world's first super models and there was the meteoric rise of Beatlemania and the emergence of groups such as the Rolling Stones, the Who & Pink Floyd amongst many others.
www.mercurytheatre.co.uk/event/johnnie-walker