In mid 1961, despite Radio Mercur's continued success some senior staff thought that the owners' overriding desire to maximise profits was beginning to cause programme standards to fall. A number

of senior personnel (Benny Knudsen)attempted to achieve what would have amounted to a management buy-out, but without success - station co-founder Ib Fogh, who was now living in Spain, refused to sell his shareholding, so the disillusioned staff decided to leave Radio Mercur and start another offshore station of their own.
A new company was registered in Liechtenstein - Etablissement de Technique Int. and, with finance from Itablise Mark Technique in Switzerland, a 240 ton Lebanese freighter Nijmah Al Hazz was purchased. The ship was fitted out in Rotterdam and sailed from there as Nijmah Al Hazz flying the Lebanese flag. En route she rendezvoused with a German vessel and transmitting equipment was installed on the ship while she was in international waters. The ship, now re-registered in Libya as Lucky Star then sailed for her anchorage in Oresund.
The new station - known as DCR (Danmarks Commercielle Radio) started broadcasting on 15th September 1961 with a transmitter power significantly more than Radio Mercur.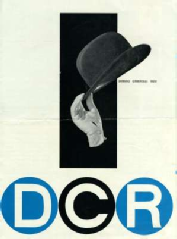 As with Radio Mercur, DCR's programmes were pre-recorded in landbased studios in Copenhagen and taken out to the ship for later transmission. The new station's style and programme content differed significantly from Radio Mercur, with more classical music, operas, plays and discussions being broadcast. The owners hoped to attract audiences away from the state network by providing an alternative choice of the same type of programmes - classical music, operas, plays and discussions – but with commercials, although these were placed more discretely between the various programmes, rather than during them as on Radio Mercur.
DCR was on the air for 7 hours on weekdays, 13 hours on Saturdays and 15 hours on Sundays, covering all of Zeeland and part of Funen with its powerful transmitter.
However, after less than three months on the air the programming format failed to achieve real popularity either with listeners or advertisers. Listeners who wanted a music based alternative to the state network tuned to Radio Mercur and those who might have enjoyed the output of DCR preferred to stay with the state programmes, which didn't have commercials. Consequently with low audience figures DCR could not attract sufficient advertising revenue to sustain its operation.
Also there were concerns on the political front that two offshore stations rivaling the state network would prove particularly unpalatable to the authorities – one station might just be accepted as an alternative - and so in December 1961 talks started between representatives of DCR and Radio Mercur, with a view to a merger, under the Radio Mercur call-sign.
One of the conditions for the merger was that joint Managing Director and co-founder of Radio Mercur, Ib Fogh resign from the management board, which he eventually agreed to do, and by the middle of January 1962 negotiations were completed and the two stations merged.
DCR ceased separate transmissions on 29th January 1962 and the Lucky Star began broadcasting the programmes of Radio Mercur.
DCR had become the first offshore radio station to close, and the first to do so without being forced either by legislation or action by the authorities.