GBOK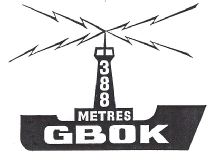 The Amalgamated Broadcasting Company was formed to front the project with registered offices and studios at Swanson's home, Notley Abbey, Thame, Buckinghamshire. A London office for the Amalgamated Broadcasting Co. was also established at 151 Fleet Street, EC4, but commercial airtime on the planned station was to be sold through another company, Adanac Broadcasting Agency, which also operated from the same two addresses.
Announcer Ed Moreno (who was later to work for several offshore radio stations) spent four days a week for several months recording GBOK programmes at the Notley Abbey studios. American Evangelist Ted Armstrong (whose programmes were heard on many later British offshore stations) bought airtime on GBOK and even publicised the station's forthcoming launch in some of his literature.
First actual press repor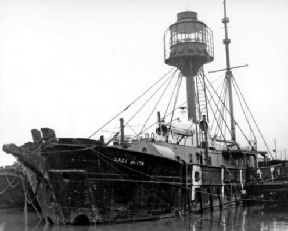 ts of GBOK appeared in the Southend Standard on 15th February 1962, indicating that the station would be broadcasting music, features and advertising 24 hours a day from a former lightship anchored near The Nore, the same location as had been planned for the Voice of Slough's broadcasting vessel, starting on 28th February 1962.
The station planned to broadcast on 773kHz (388m) with a power of 5Kw and hoped to reach a potential audience of 11 million listeners within a 150 mile radius covering the south east and Midlands. Places as far away as Nottingham, Leicester, Coventry, Birmingham and Bristol were planned to be within the station's primary coverage area and a "bonus French audience" across the English Channel was also offered for the benefit of advertisers.
GBOK was promoted in a glossy 12 page brochure published in January 1962, which attempted to explain in some detail to listeners and potential advertisers (who were accustomed only to the BBC's style of programming) just how a 24 hour American format music station would sound.
Programmes were to be of popular music with five minute news broadcasts on the hour every hour - a completely new experience for British listeners who were used to the BBC's diet of early morning, lunchtime and evening set piece news bulletins. GBOK planned to make the claim "First with the Important News" for this service.
After the early morning "Wake-up Show" ended at 9.00am another new concept of programming was proposed. Known as the "Bandwheel", this show (an internationally copyrighted programme to which GBOK had exclusive British rights) was scheduled to run for 10 hours each day. It would be interrupted only by news on the hour and a two hour "Motorway Special" between 4.00pm and 6.00pm each evening, recognising the then new and growing market for drive-time listeners- commuters with car radios.
According to the station's promotional literature the Bandwheel was an actual wheel, 9' in diameter with room in the centre for the announcer's desk and microphone. The wheel was divided into quarters, each allocated to particular artists or performers which were changed regularly throughout the day. An inner circle on the wheel was divided into thirty three 15 minute segments and eleven 10 minute segments - "Bandwheel" One to Forty Four. Exactly which artist entertained during a particular segment was determined by the announcer spinning the Bandwheel and wherever the pointer stopped the named artist's record would be played.
These segments were available for sponsors to purchase and the announcer would then mention their name and product frequently during that part of the programme.
In association with the "Bandwheel" programme the station also planned to run a Jackpot Competition for listeners to predict (from a list printed on an entry form) which artists would perform in each of the 44 daily segments for the forthcoming two weeks! Entry forms were to be distributed through sponsors' retail outlets and Jackpot winners would be drawn by the announcer in the middle of each 10 or 15 minute segment.
Between the hours of 10.00pm and 6.30am GBOK planned the "All Night Dance Party", with sponsors being sought for each hourly segment or even the complete night's programme. Prime time advertising rates ranged from £16 for 20 seconds to £90 for a 15 minute segment, with discounts for multiple bookings. Sponsorship of the nightly "Dance Party" was to be by negotiation while newscasts could also be sponsored at the 5 minute rate plus a 33% premium. By March 1962 Arnold Swanson was claiming to have already sold enough airtime to finance a complete year's programming on GBOK.
At the beginning of March 1962 the station encountered an unexpected problem, the Lady Dixon (which some press reports suggested had been renamed The Bucaneer) was moored at a wharf in a muddy Essex creek at Pitsea in the Thames Estuary. Sailing the vessel from this mooring depended on high spring tides reaching Pitsea and flooding the creek. Unfortunately for GBOK the first spring tide did not prove to be high enough to float the Lady Dixon, which became stuck on a mudbank. Attempts by two tugs to release the ship failed because only one end could be raised from what was fast becoming a mud cradle around the ex-lightship's wooden hull. It was decided therefore to wait for the next high tide on 6th March 1962 and the station's on-air date was postponed.
It was not until 9th March 1962 that the Lady Dixon was successfully refloated and towed to Sheerness for final fitting out. National publicity for the proposed station appeared in an article in The Times on 10th March 1962 which reported that once machinery and transmitting equipment had been installed the vessel would be towed to her position in international waters and broadcasting would commence "within two weeks". The vessel did indeed arrive at Sheerness on 12th March 1962 for fitting out as a floating radio station, however, it is unclear whether this was ever achieved although there are reports of an unofficial test transmission having been made from the Lady Dixon whilst in port, resulting in a raid by Post Office officials.
By July 1962 Arnold Swanson announced that work on the Lady Dixon was to be abandoned as she was no longer considered sufficiently seaworthy for her role as a radio ship. Altogether over £15,000 had been lost on work associated with fitting out the ageing vessel. Undaunted by this setback Swanson also announced that he had now acquired a 2,200 ton ex-Tank Landing Craft which would be converted into a radio ship at a cost of £30,000. The new craft was to have a stronger transmitter giving the station a projected coverage area as far north as Manchester. Swanson claimed that GBOK would start broadcasts from its new vessel by September 1962, but the station never appeared on the air.