Christopher Moore - first voice on Radio Caroline has died
DATELINE January 2021
Christoph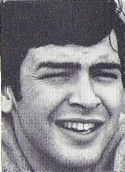 er Moore - whose voice launched Radio Caroline in March 1964 - has died at the age of 80.
Chris was born in 1940 in Washington, DC into an Irish-American family. He moved to the UK with his American mother as a child, and attended an English boarding school.
By the early 1960s he had become a noted London club DJ, being resident at the very fashionable Crazy E club in London's West End. Chris was also a photographer, and very much part of the early 60's London in-crowd, or "Kings Road Cowboy" scene. His flatmate at that time, Ian Ross, describes him as always wearing the latest mod fashions, and being almost impossibly cool. With his good looks, 6 foot 7 inch frame and deep bass voice, he dominated almost every situation.
He founded Radio Caroline, together with Ian Ross and Ronan O'Rahilly, in 1964. Funds having been successfully raised through Ian's father, he was the one who was best thought to know about ships, as he had worked briefly as a steward on a cruise ship! He was sent by Ronan to Scandinavia with a suitcase full of cash in 1963 to purchase the former Danish passenger ferry, MV Fredericia, which was fitted out, in secrecy, as a radio ship in Greenore, Ireland. He was the first voice to be heard on Radio Caroline on March 28, 1964, introducing "Not Fade Away" by The Rolling Stones. He was reportedly so nervous that his words had to be pre-recorded. He did not stay on the ship long, but moved ashore to become Caroline's first Programe Director.
Later, he took up residence at Barcot Manor in rural Oxfordshire and became a frequent visitor to Gomera in the Canaries, during which time he spent several months living in a cave by the Valle Gran Rey.
More recently, he became a frequent visitor to Wales, enjoying the summer months there swimming, and climbing up the cliffs into his mid-70s.
(Courtesy Radio Caroline)