Felixstowe commemorates Radio Caroline
DATELINE Felixstowe, 25th July 2017
Six former R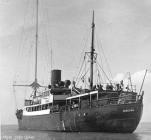 adio Caroline and other offshore presenters will be joining a special celebration this autumn to commemorate the pirate station's early years on the airwaves off Suffolk.
Organisers of the event have released more details of the weekend at Felixstowe.
The highlight of the celebration will take place on Saturday, September 9th at 5.30pm when the Felixstowe Society and Felixstowe and Offshore Radio Facebook group will be unveiling a commemorative stone at the clifftop viewing area.
Brian Nichols, of the radio group, said: "We hope to have in attendance Alan 'Neddy' Turner, one of the few people remaining who worked on board the MV Caroline whilst she was anchored off Felixstowe in 1964, together with Radio Caroline and BBC Essex presenter Ray Clark, who will be representing the station.
"The mayor, Nick Barber, and other councillors, along with representatives of the Felixstowe Society, and East of England Co-operative Society will also be in attendance."
The plaque is part of a series put in place by the Felixstowe Society, marking historic events in the town's history, and in this instance has been prepared and paid for by the Co-op.
The weekend will include a exhibition in Trinity Methodist Church Hall, Orwell Road, on September 9th from 9am to 5pm and September 10th from 10am to 4pm, with a Flashback to '67 display, a show of vintage radios and technology, a record and CD fair on the Saturday, and Radio Caroline merchandise.
Presenters joining the events over the weekend will be Johnny Lewis, who worked for Caroline on board the Mi Amigo in the late 1970s and the Ross Revenge in the 1980s; Bill Rollins, who worked on Tower Radio and behind the scenes for Caroline in the 1970s and 1980s; engineer Michael Barrington; American DJ Chuck Reynolds; presenter and engineer Martin Fisher, who has been with the station from the 1970s to the present; and Ray Anderson, a presenter on Radio Atlantis in 1974, and the man behind Laser Hot Hits in the 1980s.