Laser and Caroline Engineer and DJ Blake Williams has Died
DATELINE 26th June 2017
Former Laser a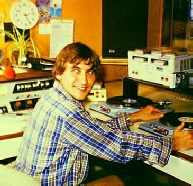 nd Radio Caroline engineer and DJ, Blake Williams passed away on 25th June 2017 following a bad asthma attack which caused severe brain damage.
Blake joined Laser from the very early days - he was due to start work with the station in November 1983 as Chef Engineer, but was unable to make the transatlantic voyage on the Communicator, which had sailed from Port Everglades on 18th November.
He then flew to Dublin and joined the Communicator at the quayside in New Ross in early December 1983 - and he didn't leave the ship at all until April 1984.
While on board the Communicator he led the test transmissions on 729 AM - the other voices heard were Johnny Lewis and Paul Rusling on the formal test announcements.
However, he was concerned at the way the crew were being treated and had some disagreements with Roy Lindau, Laser's Manager in New York . As a result, he left for a few weeks holiday ashore and during his break in the UK he was hired by Radio Caroline which broadcast from the Ross Revenge, anchored just to the north of the Communicator.
He joined Radio Caroline at the end of May 1984 and was soon adding considerable enthusiasm and professionalism to the station's 'on air' sound. Blake was made Programme Organiser and hosted many shows himself.
After leaving Radio Caroline on 17th July 1984, he returned home to the United States. As well as doing voiceover work, he was involved with KRSI Radio, Saipan, spent four years with KKLD Cloud 95 in Tucson Arizona, as well as 103.7 The Oasis in Albuquerque, New Mexico.
Blake was also the driving force behind Albuquerque 'local' station KXNM. The station is also known as X-88.7 and Blake was Programming and Operations Director. Despite an horrific riding accident in 2015 he oversaw the installation of a new Nautel transmitter at the station last autumn.
Blake also hosted programmes at KKLD (the Cloud 95) and on a smooth jazz station KOAZ, The Oasis in Albuquerque and in Santa Fe.
Blake also produced "Sounds of Enchantment" programmes every week for Replay Radio, an online station broadcast from Kent.
As well as his radio work Blake also made a small career in films and some of his appearances can often still be seen on the cinema screen as well as television.
A tribute page to Blake is available at http://worldofradio.co.uk/Blaker.html
Thanks to Paul Rusling for providing information for his article.