Radio Caroline Awarded AM licence
DATELINE London, 19th May 2017
Ofcom has today an

nounced the award of five new community radio licences for medium wave (AM) services.
The new stations will serve communities in Glasgow, West Leicestershire, Suffolk and northern parts of Essex, Yeovil and south Somerset, and Leicester.
Community radio services are provided on a not-for-profit basis, focusing on the delivery of specific social benefits to a particular geographical community, or a community of interest.
Licences have been awarded to (four others including):-
Radio Caroline (Radio Caroline AM Broadcasting Ltd)
Contact name: Peter Moore
Email: caroline_pirate@btconnect.com
Website: www.radiocaroline.co.uk
Radio Caroline will broadcast a wide range of album music from the 1960s to the present day. It is for people aged 45+ in Suffolk and northern parts of Essex.
Note about Community Radio Licences
Community radio, which offers thousands of volunteers the chance to get involved in broadcasting across the UK, is ten years old.
The last decade has seen the number of community radio stations increase from just a handful to more than 250 stations, each reflecting the local needs and interests of its audience.
In April, Ofcom announced the conclusions of its review of community radio: future licensing and technical policy.
Ofcom will amend its technical policy, to remove references to set coverage areas for community radio stations. We will adopt a more flexible approach, and applications will be considered for wider areas where applicants can clearly demonstrate the proposed coverage area will better serve its target community, where it is technically possible.
Ofcom will also consider requests to improve coverage within existing licensed areas. This can help a station overcome poor coverage due to interference or local terrain issues.
—------------------------
Information from the Radio Caroline web site
We are pleased to announce that Ofcom have just informed us that our application for an AM licence has bee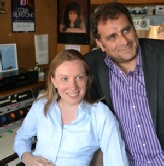 n approved and that a licence will be awarded
Further details will be sent to us by Ofcom in due course. Power levels and frequency are yet to be decided.
This is the end of – or a further step in – a process started by Bob Lawrence in 2010 and enthusiastically supported by Tracey Crouch MP.(Tracey Crouch MP with Bob Lawrence pictured left).
We thank them both and further thank the many other people who have helped along the way.
There are many preparations to be made and these may take some time. We will make further announcements in the future.
The basis of our application was that our traditional heartland was Essex and Suffolk, where the signal from our ships made first landfall and that we wished to entertain on AM, an audience that we have not been able to serve in this way since 1990.
We said that this audience may hear music radio of a style they remember and in some cases presented by the same people they remember.
That in essence is what we intend to do.